Sport news
Present:
Elfyn Evans, M-Sport World Rally Team
Kris Meeke, Citroën Total Abu Dhabi World Rally Team
Jari-Matti Latvala, Volkswagen Motorsport
Hayden Paddon, Hyundai Motorsport
Q:
Elfyn, this is your home event – how do you feel?
EE:
I'm really excited. The stages look in fantastic nick. I can't wait to get going, that's it…
Q:
We've seen some great performances from you on Tarmac, how do you feel about getting back on the gravel?
EE:
I feel OK. We made quite a few changes in testing and I hope that will help us find the confidence here, especially if the conditions get tricky. The feeling is good, I'm really looking forward to it.
Q:
You said if the conditions get tricky…
EE:
We always knew it would be wet, that was a given. Let's see what it's like on the day. I'm not sure it'll rain too much on the day, maybe Saturday, let's wait and see. It will be difficult with the standing water, but it'll be what it'll be.
Q:
Will we see you pushing to the maximum?
EE:
Of course we'll be trying. I really, really enjoy the stages – the only way is to attack and drive well. My main focus is to drive well, have fun and see where we are.
Q:
Is there pressure for next year?
EE:
It's no different from the beginning of the year. I knew the seat wasn't 100 per cent confirmed for next year. OK, we're closer now, so there's more emphasis put on it; I haven't got a magic wand, I can only do what I can do. We'll see what comes.
Q:
What's been the high point of the year?
EE:
You'd have to say Corsica because of the result, but in many places I feel I've had a good glimpse of speed – it's just frustrating not to show that for the duration of the event. There are positives and we need to focus on them.
Q:
You had Welsh rugby player Scott Williams in the car with you this morning. Did he enjoy the ride? Did he scream?
EE:
No, he didn't scream and I wasn't going to argue anything he said or did…
Q:
Kris, this is the closest you get to a home event, looking forward to it?
KM:
Like you said, it's the closest it gets – it's still a flight or a boat trip. The first rally I ever did was the Bulldog, with Gartheiniog or Dyfi as the first stage I drove. This feels like home here. This is one of the classics, with some classic stages. Yes, there's a lot of rain on the recce, but the organisers have done a lot of work to the roads, they're in really good shape. I'm looking forward to it.
Q:
Is the manufacturers' battle on your mind or can you still push?
KM:
To get on in these type of stages, you need to be committed to make the car work. The moment you back off, the grip disappears and it's difficult to get it back. Last year we missed second place because of a mistake in Brenig; the speed has always been good on this event for me. My team-mate Mads [Ostberg] has a lot of experience and he's going to be very strong. If we both do our jobs this weekend, it shouldn't be a problem.
Q:
What's the toughest challenge on Rally GB?
KM:
We all know the challenges, it's the weather, the mud, it's tricky and slippery. The FIA seems to be pushing more for the endurance-type rallies and tomorrow we'll do all day with no service; Saturday we do 110 kilometres with no tyre change and then some dark stages. We're up and out at 05:00 and back at 10pm, couple in the weather and what that can bring… We need to be on our game with good speed to get a good result.
Q:
What's the high point of the year for you?
KM:
The first victory in the WRC is pretty special. But Portugal, I showed good speed and we had a great battle with Jari-Matti [Latvala], but I wasn't able to manage the tyres. Those couple of events were the highlights, but also Sweden, where I was close to fastest times on just my second time there, and then the Power Stage on the Monte. We have missed some points this year on some events and they would have helped me fight for third place. In the last few rallies, we've had to get our head down and help the team for manufacturer points – that's the job and we'll continue that here.
Q:
What about the future?
KM:
No idea. I have three days work left, you have to ask my boss. I have no idea, nobody has any idea within the team what's happening. We have to wait and see.
Q:
Jari-Matti, you have good experience here…
J-ML:
This is my 14th time competing, but actually my 15th Rally GB. I came in 2001 as a spectator – yes I do have some experience.
Q:
Looking forward to it?
J-ML:
It's like a second home rally for me, I like the fast, flowing forest stages – especially Myherin.
Q:
Why Myherin?
J-ML:
It's more open and wider, it's the way the stage picks up the lines and you can set up the car before the corner. It feels like Finland. The surface is changing in there, it can be slippery even though the grip looks good, but I like the room that allows you to play in the long, long corners. You can make a difference here.
Q:
Highlight of the year?
J-ML:
I came into this year with big hopes for the season. Maybe I was pushing too much at the start of the season, I was not completely happy with the new car and 2014 had been the best season so far in my career. My hopes were high and maybe I was trying too much and then in the second half of the season – from Finland onwards – I was really pleased with the way it was going. I felt in Finland, I felt really good with the car and also that I got my self-confidence back.
Q:
A win here would boost the confidence?
J-ML:
I'm a veteran already, so, I guess, I should be here fighting for the win. I have to be here challenging the guys on the top, it would be nice to finish the season with a nice kick for 2016.
Q:
Hayden, how do you feel going into the final round? Does the announcement of your three-year contract ease the pressure?
HP:
I definitely feel a bit of pressure has gone off the shoulders in trying to fix our long-term future. But, at the same time, it brings more pressure now because we have to perform, looking to the future we're working harder than ever – it's a different mind-set. These last couple of rallies, we're using as a warm-up for next year, I hope to be more up the front on this one.
Q:
What's the highlight of the season for you?
HP:
It's a bit of a given that Sardinia would be the highlight from a result point of view, but I always said from a personal point of view, Poland was a big one. We backed up what we'd done in Sardinia when we got to Poland that that helped kick-start contract negotiations. Poland was a good turning point.
Q:
What do you expect this weekend?
HP:
This was the first rally I did outside of New Zealand in 2007. I enjoy the nature of the stages, especially the faster stages on day one. The slippery ones are more difficult, but we can handle that alright. That has been a bit of a weak area of mine in the past, but this is the perfect opportunity to do that this weekend.
Q:
What's the biggest challenge?
HP:
Hafren. It's very slippery, particularly the part of the stages which was used in reverse last year – we saw a lot of people spinning there.
Q:
You were shearing a sheep in your pre-event video, you looked brutal with the shears…
HP:
The second sheep was fine!
QUESTIONS FROM THE FLOOR
Markus Stier
Sport Auto, Germany
Q:
What do you think about the championship not finishing in Wales next year?
EE:
I have to worry about being here next year before commenting on it. If we take typical Wales conditions in October, the weather is similar to November, so I don't think it will lose its character, we will still have a proper Rally GB.
KM:
First I have to concentrate on being in the championship next year. Australia is a fantastic rally with good organisation and roads, but there is zero atmosphere down there. The public in Coffs Harbour are not interested in the rally, it's like a dead place to go. We travel all around the world and there's nobody there to watch. Here we have a great atmosphere, whether it's the last rally or not doesn't really matter – October can still be cold, damp and muddy.
J-ML:
I don't think it changes the condition in October. Don't forget, it's not the first time for Australia – in 2004, Australia was also the last rally of the season. Lombard RAC Rally was always the last event of the year. It's difficult to say if we gain anything with the change. It's an experiment – maybe we learn something from it.
HP:
I think everybody knows my stance on Rally Australia. I don't necessarily agree with it being the last rally. The WRC is a largely European-based championship and if the fight goes down to the line then much of the interest in the rally would be missed from Europe. And if we go there on the final round, we might lose some of the support category cars, there's not many spectators there anyway and there'll be even less for the spectators to watch if there aren't any so many cars.
Petter Solberg
Q:
Jari-Matti, how sideways will you be?
PS:
I'm thinking about it, Petter. I want to try to find my old way of driving style: very aggressive.
PS:
We like that.
J-ML:
Like yours in the rallycross…
FIA WRC 2 CHAMPIONSHIP
Present:
Craig Breen, Saintloc Junior Team
Tom Cave, E2-Tre Colli World Rally Team
Q:
Tom, welcome back to WRC 2. You had a very good season, how do you feel it went in the Drive DMACK Fiesta Trophy?
TC:
I'm happy and definitely satisfied with the performance. I feel I have come on a lot as a driver. The [DDFT] win in Finland was definitely a highlight, we had bit of bad luck, but this is the way it is sometimes. We finished second in the championship which was a good result, just not the result I wanted. But there were plenty of positives.
Q:
This is your home event, good to be back in an R5 car?
TC:
Great be back in an R5 car, this is the car I want to be in next year. This is the seventh time here, so I know it quite well and I have good experience of the stages. I know the stages well and am looking forward to the challenge, it'll be nice to compete in top three on Sunday.
Q:
What are you aiming for here?
TC:
I think a podium is realistic. We have the experience to fight there. There are a handful of quick guys – one of them is sitting to the left of me [Craig Breen] and I'll have to be on the pace and have a clean run – there's no service tomorrow and Saturday. We'll have to keep our nose clean.
Q:
What's the biggest challenge?
TC:
The first run tomorrow morning is very important. If you pick up problems tomorrow it's easy to drop a lot of time if you have a bit of an issue – we have to factor in the night stages on Saturday. We were fast there last year. There was a lot of fog on the recce, that will be a challenge as well.
Q:
How was shakedown?
TC:
I'm happy. We only did two runs because the road started to cut up and I wanted to save the car for the weekend. But, the time was good, it was good to get a feeling for the car and conditions.
Q:
Any news about next year?
TC:
That's something I've been looking at since August or September. I would be nice to do full season in an R5 car, but let's see how we get on this weekend.
Q:
Craig, it's been a busy and frustrating year…
CB:
A bit of frustration is the one thing I'll remember from the year – along with the speed we've shown. We have led a lot of events, but they haven't come to fruition. We had a good start, with three wins in ERC, and winning the Circuit of Ireland was a dream, but it went a bit belly-up from then on. We've had lots of bad luck in the last few events – you couldn't make the stuff up that's happened to us. On the Acropolis we had the bonnet fly up on the car, then, when we tried to fight back, we were in the middle of a tropical storm. Valais, last time out, there was a small slip-up from one of the mechanics who made a mistake and put two extra tyres in the car. This is the last event of the year, let's see if we can end it on a high.
Q:
You have good memories of this event?
CB:
I have absolutely magic memories from this event. This was Gareth's home rally and it was an absolute pleasure – and I really mean it – to have him by my side. I've missed him for a couple of years, but it's really nice to be back again. He's here with me again in spirit.
Q:
How good or bad are you expecting conditions and the weather to be?
CB:
I'm not expecting anything different from the rain, it's not like you pack shorts and then realise you've made a mistake… The stages coped quite well with the water. They are good at draining the rain water away, they tend not to hold a lot of water. Shakedown was much more slippery than expected. Let's see what the weekend brings. The stages will get very slippery, it's a tough weekend coming.
Q:
What's the real challenge here? Are you afraid of the dark?
CB:
Everybody will be a little bit apprehensive about that. But the fog will also be a big challenge, we were in Dyfnant a few years ago and we actually had to stop and open the door just to check we were still on the road! I'll never forget that. With the weather we've got coming, this can happen again; sometimes the fog can shift quickly and some people get a better run than others. Saturday's itinerary has been designed by an insomniac, but it's another challenge. This is the last one of the year, why not make it a good one?
Q:
What about next year?
CB:
I'm in a lot better position this year than I was last year. I won't say I've got options, but I do have some very, very strong possibilities that I need to tie down. I'm confident I'll be here next year, in what car or colours remains to be seen.
FIA JUNIOR / WRC 3 CHAMPIONSHIP
Present:
Simone Tempestini
Quentin Gilbert
Q:
Simone how do you feel about this event?
ST:
I am confident. It's a bit cold, I hope the rain will stop and we don't find fog in the stages. If we do find it, it will be for everybody and it will be harder. It will be long and difficult conditions with many kilometres without service. Our start position will be really hard for the car, there will be many stones coming out of the soft surface. We try to do our best and drive like I know. We had a good recce. I hope to avoid problems and make a strong result.
Q:
We've seen some strong performances from you on the gravel this year…
ST:
Yes, I love gravel surfaces. Here I want to fight for first. This year we were very good everywhere, but sometimes I make some mistakes and then sometimes I am unlucky – Spain, for example, we got a lot of punctures. This year was good experience for me to try to win Junior WRC – we will run again in JWRC next year.
Q:
You will come back to Junior WRC in 2016?
ST:
Yes, with maybe some other races next year. We have a beautiful opportunity to go with the fastest car.
Q:
The WRC 3 title is still available here…
ST:
Yes, it's available, but it's really hard for us. Quentin was really good and many points ahead. Mathematically, it's not close. This is one reason more to go well this rally. Let's try to be in first position and see what happens.
Q:
Quentin, what an amazing season…
QG:
For sure, we have a really good season with five victories and now we are Junior champion, but now it's also important to win WRC 3. I think it will be a big battle with Simone. We have a lot of points to take, but it's important to finish in a good position. I like this rally and hope it will be good.
Q:
What do you like about this event?
QG:
This is my third time here. I won in 2013, in the DS 3 R3. I won and had good memories. Last year we drove an M-Sport Fiesta R5, we had small problem with two punctures, but we did a lot of good times including a best time in WRC 2. We had quite good pace here all the time – I hope it's the same this year.
Q:
No service on Friday, how will that affect the way you drive?
QG:
It's important to start the rally like it's the beginning of the season, we need to understand the car and the conditions and see what the other drivers are doing. Every rally is really long, it's not necessary to start really flat out. It's important to finish the first day with no service, but it's important to be careful on the first day.
Rally GBWRC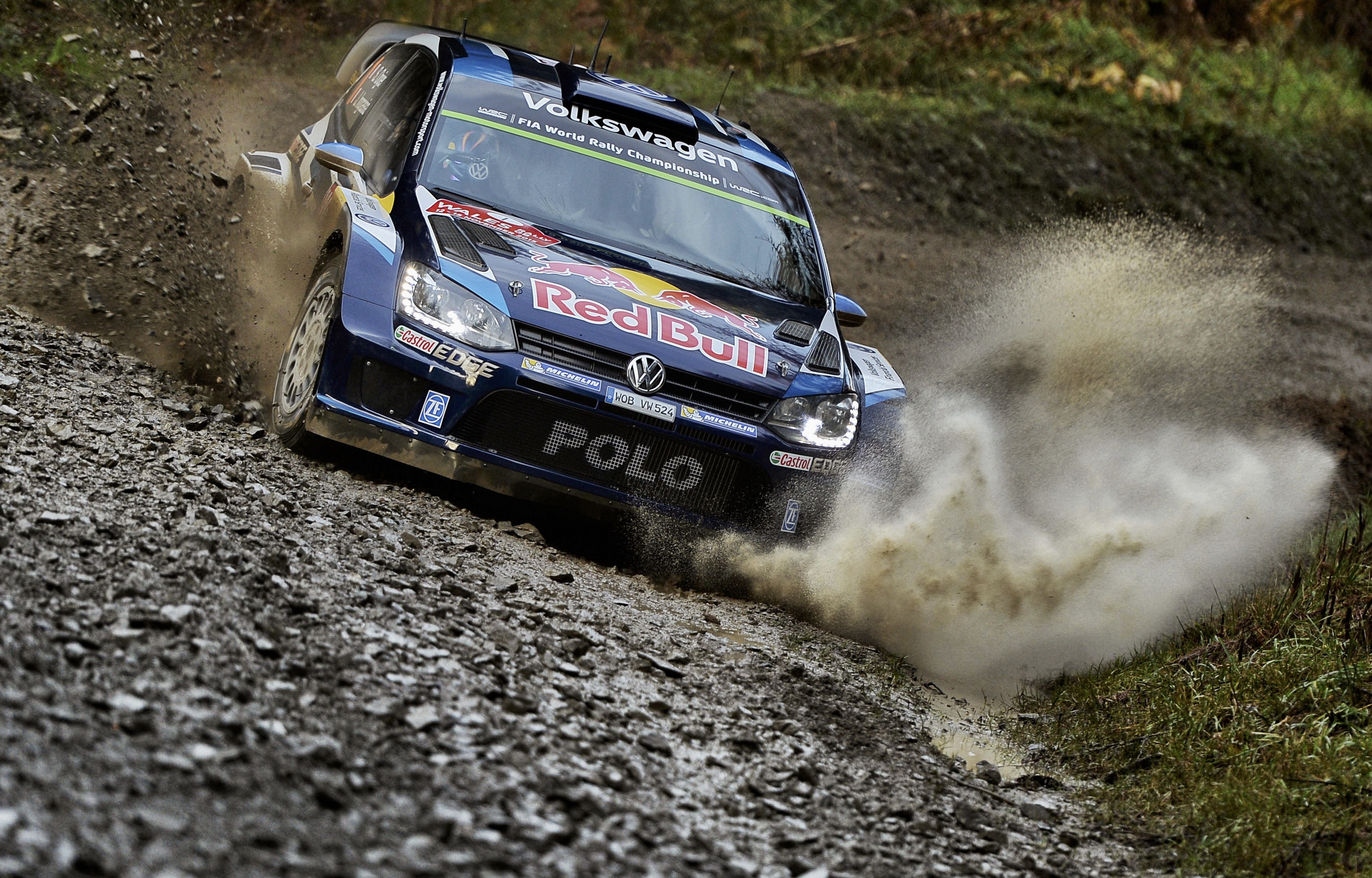 SEASON 2015SportRalliesSportWorld Rally ChampionshipRalliesWRCSEASON 2015Rally GB00Thursday, November 12, 2015 – 4:09pmThursday, November 12, 2015 – 4:09pm