75 years ago this week, the Sports Car Club of America came to be. Since then, the SCCA has made a lot of history – and done a lot of racing. Truth be known, the SCCA has made more motorsports history than most automotive clubs combined. And to celebrate this milestone accomplishment, RACER.com will take you through a historical journey this week. And today, we'll take you to SCCA's day one.
On Saturday evening, Feb. 26,1944, seven car enthusiasts from Boston, Mass., met at the home of Chapin Wallour with the intent of forming a new club specifically for those with an interest in the new breed of automobile that many were calling "sport cars." These cars provided a more enjoyable driving experience than the run-of-the-mill vehicles of the day. These sport cars tended to be lighter, faster, and handle better than those developed for mere transportation. However, they also tended to have a rougher ride, fewer driver and passenger amenities, and, when driven hard, required a bit more maintenance and repair. Thus these cars were not destined to be the choice of the common driver. Instead, they would find a place only in the hearts of those who enjoyed driving for the fun, or "sport," of it.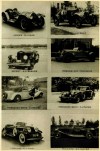 At that first meeting, a draft constitution, which had been prepared by Ted Robertson, was reviewed. The constitution required that a member own at least one sport car and that if a member sold his car to a non-member without first offering it to the other members, he was to be dismissed. Dismissal would also occur if any member sold his last sport car and was no longer an owner.
The constitution was adopted that evening and Robertson was elected the first president of the new Sports Car Club of America. Wallour was elected vice president and presented a draft design of the SCCA emblem, which used a stylized wheel and tire. As the story goes, the emblem was sketched from the wheels on Robertson's Mercer Raceabout, which was sitting outside. The logo was adopted and remains the SCCA logo today, 75 years later. The SCCA immediately began a newsletter, which the founders named The Sportwagen. The name was chosen because it seemed to be the most commonly used term, worldwide, for cars of a sporting nature. Volume 1, Issue 1 was sent out in March 1944 as a stapled packet of mimeographed pages.
But the SCCA's founders didn't stick to logo designs and mimeographed monthly bulletins for long. After all, it's only natural for a group of sports car enthusiasts to meet up and bring their sporting vehicles. But at the time, World War II was raging and fuel at home was being rationed, so options were limited. So tomorrow, we'll find out exactly what they decided to do, and how the SCCA began the process of becoming the definitive amateur motorsports organization in the US.