Sport news
Present:
Gabriele Tarquini, BRC Racing Team, first position, Race 1 and Race 3
Jean-Karl Vernay, Audi Sport Leopard Lukoil Team, first position, Race 2
Thed Björk, YMR, second position, Race 3
Mehdi Bennani, Sébastien Loeb Racing, leading local driver, second position, Race 2
Q:
Turning firstly to Mehdi Bennani, the local hero. And after your fantastic podium in Race 2, please explain what that felt like in front of your home fans here in Marrakech?
MB:
Thank you to everybody for bringing this WTCR race here to Marrakech for the opening of the world championship in 2018. I also have to thank my team for doing a great job all weekend. For me it's a very good result to start with. We need something very strong to start the championship and to start with a podium and points means we can be there and we will be fighting. It was very tough for sure because I started a bit in the middle for both races but I tried to manage not to have big contact, for sure we had some small contact, but I can finish the race and I can score points and keep fighting. It was very good because this is the only way I can thank people for trusting in me and to support me from here and far away. I am very happy that I can give them a little bit of thanks with this second position and I hope it's going to be better and better during the year.
Q:
But was there a moment though in Race 2 where you got have got ahead of Jean-Karl because it was really close at times. Was there a chance in your mind?
MB:
I think he's a very clever and very quick driver and congratulations to him because he deserved to win. For sure I wanted to make opportunities to overtake but he is very clever and he knows what he has to do, great for him and congratulations to Jean-Karl Vernay.
Q:
Now the man who beat Mehdi Bennani to the Race 1 victory was Jean-Karl Vernay and what a great start to your WTCR campaign. From your point of view how satisfying was that for you?
JKV:
I think it's a great weekend. We were not expecting that kind of result before we come here. We scored a lot of points. I finished all the races with my beautiful Audi in one part so this is also a good points for the mechanics.
TB:
But you had some scratches on it!
JKV:
But this was by myself during qualifying! No, it's great. It was really important for me to start the championship well. It's my first race with Audi and it's also important for that and all the sponsors. It's great to learn the car. I am still in a learning process but it's great. The gap with the leader is not that big and we will try to give everything to be closer in the next round.
Q:
But on that first corner there was a moment when Pepe Oriola was very close to you and could have got the lead but it was really touch and go. What happened at that first corner?
JKV:
I took a better start than him and I arrived in the first corner a little bit in front on the outside line. I touched Pepe a little bit, went wide but I was able to stay P1 and that was a good move. That's why we are in touring car to have some battles like this.
Q:
Turning next to Gabriele Tarquini and an incredible weekend for you winning not just one race but two. Just explain how you made such an impressive start to your WTCR season?
GT:
Yesterday the secret and the key of the win was the start because I know very well this car and I took a great start coming outside and this was the key to the win. Today I think qualifying. I made a really good qualifying without any mistakes. I tried to go through Q1 and Q2 without using a lot of tyres to save tyres. Q3 I was focused on the lap. Here when you are close to the limit it's very easy to make small mistakes that cost you probably the pole position. I knew the lap time of Yvan was a fantastic lap time and difficult to beat so I was concentrating. Fortunately, I took the pole for only 80 thousandths, which is probably one metre 30 centimetres. This was a good achievement for the weekend because I know I could start leading the race and after I can control the race without problem. But it was a little bit tough than what I expected because in the second race, in the start I hit the wall and I had some problems on the suspension and I stop three or four laps before the end just to be sure the car was really to go for the third race. The mechanics make a fantastic job and in 15 minutes they change the suspension, they change everything that was broken. Unfortunately, I could not change the brakes because it was too late but I tried to manage to do both races with the same brakes. But I could control because when you are leading you have a big advantage. You have the fresh air in front. The dream continues, I'm dreaming, I'm leading the championship. Yesterday was a fantastic win. Today, again, it's the best way to start the season.
Q:
Turning next to Thed Björk. Now Thed you were leading Race 3 for quite some time but then you didn't quite finish there. What happened?
TB:
I turned the car off. It's not so good. It's a new car, Gabriele developed it but it worked really well and I'm happy to be here. It was good only Yvan took me. It would be bad to lose loads more positions. But I started the car again and kept going. It was a small mistake from my side and I have to learn not to do that.
Q:
Has that ever happened to you before Thed?
TB:
Now it's not. It happened to Néstor [Girolami, former team-mate] last year so I feel like a good team-mate with him.
Q:
And a quick summary of your weekend because you're massively close in the title battle?
TB:
Of course and like Gabriele said before it's 27 more races to go. We travel the whole world. It feels good to start like this and I must say I'm very happy with Yvan Muller Racing because a couple of months ago they were not even thinking about this. They did a really good job to be here on the grid so I'm happy for that. I'm a couple of points behind Gabriele and he did a fantastic job this weekend so nothing to touch on that.
Questions from the floor:
Q:
From Medhi Casaurang-Vergez (AUTOhebdo, France) to Thed Björk and Gabriele Tarquini: Do you think the Balance of Performance is an advantage given to your car?
GT:
We must survive with this BoP. The BoP went out just before the first race. Here the Hyundai was the car to beat on this track. It's probably not a normal track and we must wait for Budapest and just see if the Hyundai again will be the car to beat. We are not sure about this. The car here was working very, very well and I was very happy with my Hyundai i30 N TCR. It's great to drive. I don't know what Thed thinks…
TB:
Look at last year when we came here. The Volvo was quite good but you could see Honda was really strong here, also in Vila Real and some other places. So I agree with Gabriele, let's see what happens next. The car felt very good for me like it was so let's see how it goes.
GT:
The car is on the market. You can buy it if you want!
Q:
From Medhi Casaurang-Vergez (AUTOhebdo, France) to Jean-Karl Vernay. Jean-Karl, you smile about that?
JKV:
I can't do anything about it. I have a car and I need to drive it 100 per cent. Obviously the Hyundai was really quick. The two teams are professional teams with awesome drivers and lots of titles. It's going to be difficult. For sure the Hyundai were a bit quicker than all the other brands but I hope we won't have to wait until Budapest and we will have a change before then because the gap was quite big to the other brands. I have a boss, his name is Chris Reinke and he has to take care about that. I'm the driver, I just have to focus on driving the car 100 per cent, that's all.
WTCRWTCR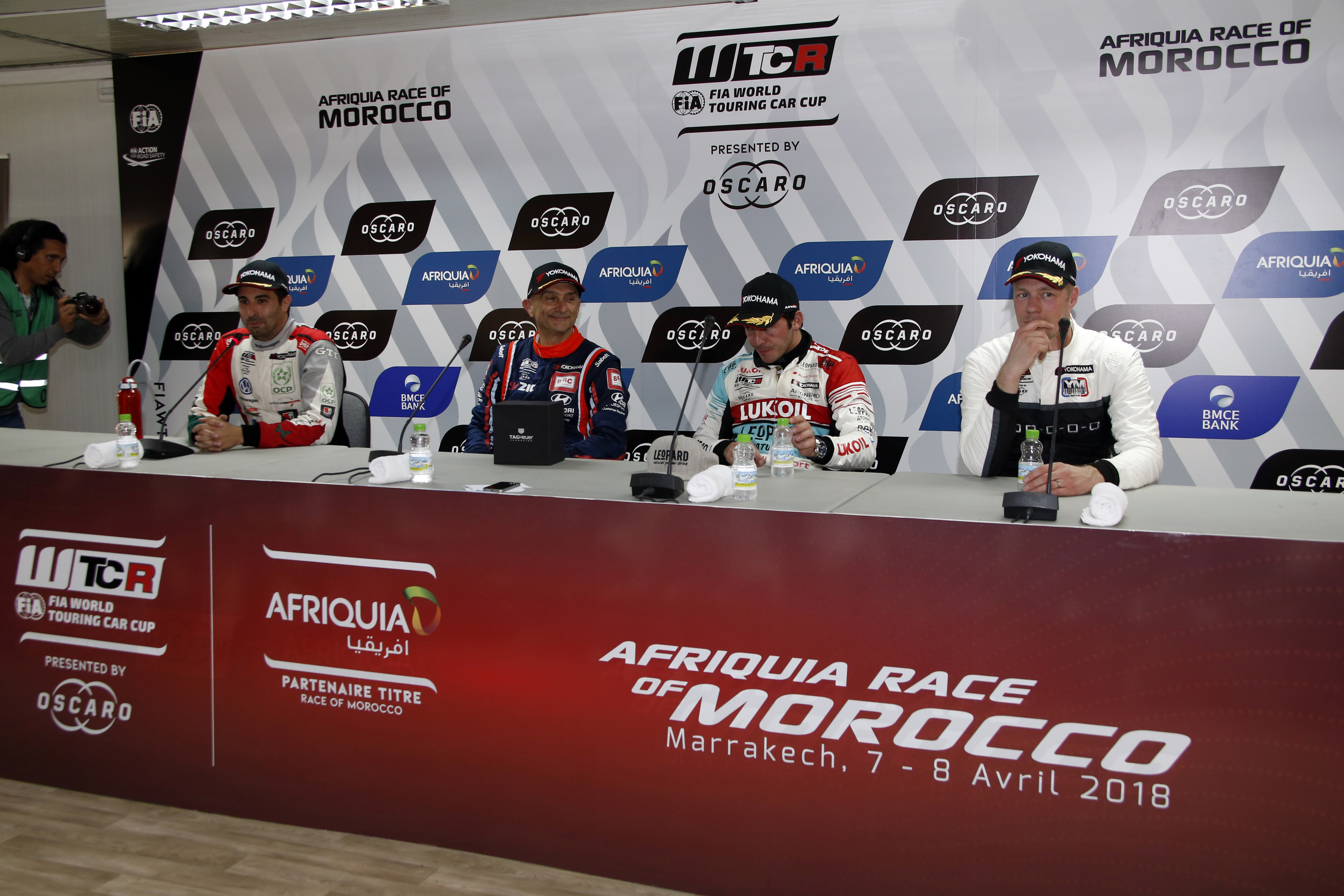 SEASON 2018SportCircuit1SportWorld Touring Car CupCircuitWTCRSEASON 2018WTCR00Sunday, April 8, 2018 – 11:56pmSunday, April 8, 2018 – 11:56pm