Sport news
Present:
Gabriele Tarquini, BRC Racing Team, first position
Thed Björk, YMR, second position
Rob Huff, Sébastien Loeb Racing, third position
Mehdi Bennani, Sébastien Loeb Racing, leading local driver (fifth position)
Q:
Coming to you first Gabriele, congratulations on making history today as the winner of the first WTCR race. From your point of view just explain how you won that race today?
GT:
I knew that it was very tough to overtake the car in front of you so I do my best on the start. Fortunately, I know very well this car and Thed jumped into the car just a few weeks ago and probably don't know how the car reacts. I knew this and I probably have more experience with the car so I decided to use also new tyres, and just went straight on the green lights and that probably helped me a little bit. It was a great start. I don't know compared to the others but compared to Thed I was faster and later on it was just managing the pace and the brakes. I remember in 2016 I had some problem with the brakes and speaking with the drivers last year everybody was complaining about the brakes. We must consider this car is not as giving on brake cooling like WTCC and we carry more than 150 kilos more. It was very tough and fortunately I had nobody in front of me. I knew Thed had a slipstream on me but normally his cooling is not as good as mine. But except for an odd moment in a hairpin it was a relaxing race let's say.
Q:
Relaxing even with all that pressure from Thed towards the end of the race…
GT:
Yeah because of the characteristic of the track. We are using the same cars so the speed is very similar. Acceleration is very similar, the brakrs are the same. It's difficult to overtake accept if you make a mistake so I was concentrating not to make a mistake. It was not easy because with the brakes you can make a mistake but fortunately the brakes were good enough to finish the race. But the race was shorter so tomorrow will be more tough.
Q:
Turning next to Thed Björk, now as Gabriele eluded it was all about the start in that race. What happened to you at the start?
TB:
I tried to get away as good as possible but it takes some time to learn the car. He knows it from the beginning, I will get on top of that and get the feeling for it. Apart from the start otherwise it felt good balance-wise but like Gabriele said this track is tough on the cars and warm for the drivers as well. He just left at the start I tried to push him a bit to see if he would make a mistake or where I could overtake him but he didn't want to open the door anywhere. No, he did a good job and I feel good because you have to finish the race to get the points. It feels good to be here in the press conference. I started the season last year in second position so it's a good sign.
Q:
Turning next to Rob Huff. You've got a reputation as a street fighter based on your success on street tracks but what was it like out there with all the battles going on?
RH:
I tried and tried hard. We got a really good start which is something we've been working on over the winter. I obviously jumped JK [Jean-Karl Vernay], which was really good because we were faster than him and I was glad not to get held up behind him which meant I could put a bit of pressure on these guys. Right at the beginning I could certainly hold them if not go a little bit quicker. Gabriele was just taking a bit of time to warm everything up as he does. Then obviously the show began and Thed started nibbling, nibbling and at one point I thought it would end in tears because Thed had a throw up the inside at a hairpin but I managed just to get out of it. That gave me a chance to try to get alongside Thed. But it was a tough race, a long race and tough with the safety cars so difficult to manage as a driver. To be on the podium for the first weekend we didn't expect and I'm not going to lie because we thought Hyundai and Honda would be right up there. We were right behind obviously but to be on the podium and get some good points in this first weekend, this first race is exactly what we need.
Q:
Turning next to Mehdi Bennani, the home hero finishing fifth overall in Marrakech. Mehdi please explain what your race was like?
MB:
Congrats to Gabriele, Rob and Thed. I want to be in your place…
TB:
Tomorrow!
MB:
I start the first time in a WTCR car and it was not so bad. I tried to overtake two drivers and after I tried to follow the level of the guys in front of me. We are here. We were struggling a bit with the braking towards the end like everybody else in the straight line. But it's a good start for me in the championship. P5 is not so bad to score points and we will see tomorrow. Tomorrow is still two races and qualifying so a lot of things to do.
Q:
Before the race there was so much noise from the grandstands so what was it like for you hearing all that support?
MB:
It's very strong, it's pressure and motivation. I can see this support around football in Morocco so to have this support from my people, my partners is something very nice for me because they give me the power to be stronger and fighting with guys. Tomorrow I hope to be fighting much more with them to make it more difficult for them. Thanks for the positive energy and I hope I give back a little bit what they are doing for me with this P5 and the result will only be for them.
Questions from the floor:
Q:
From Medhi Casaurang-Vergez (AUTOhebdo, France) to Mehdi Bennani and Rob Huff: what do you think about the performance of the Hyundai, do you think they are on another level?
RH:
They won so they're strong but nothing we didn't expect. I was lucky enough last year to race in both championships and I saw how strong the car was. I saw Gabriele's first performance in China when made a joke of everyone and that was impressive. To be here and to be on the podium we have to be very pleased. We still have a long way to go with the car, Gabriele knows his car very, very, very well. For me Thed was quicker in the race than Gabriele, Thed was pushing hard and was really showing what the car was capable of doing. We couldn't keep that pace but we have to work hard to try to achieve it.
MB:
I think our pace was good also. We are trying to follow their level. Rob was just behind them so it means our car was also good. Congrats to them because it's who works best with the car, with the drivability and also to set up the car. For sure they are now the target of each factory and congrats to them.
Q:
From Jacques Leunis (Eurosport, France) to Gabriele Tarquini:
GT:
I feel very lucky to fight with these guys who can be my son! When you are 56 normally you are thinking about pension, about other different things. I am still driving. To be honest I don't think any big handicap comes from my age. I feel some good motivation comes from my experience and sometimes I use this experience to do very good things. I feel very lucky because my career was very, very long, probably not as high as I expected especially in formula but I had the chance to fight for a long time and I enjoy much more now than when I was young because now I don't have any pressure. When you are young you think about the future and the year coming. Now I know sooner or later I must stop but everything I achieve is a great pleasure.
WTCRWTCR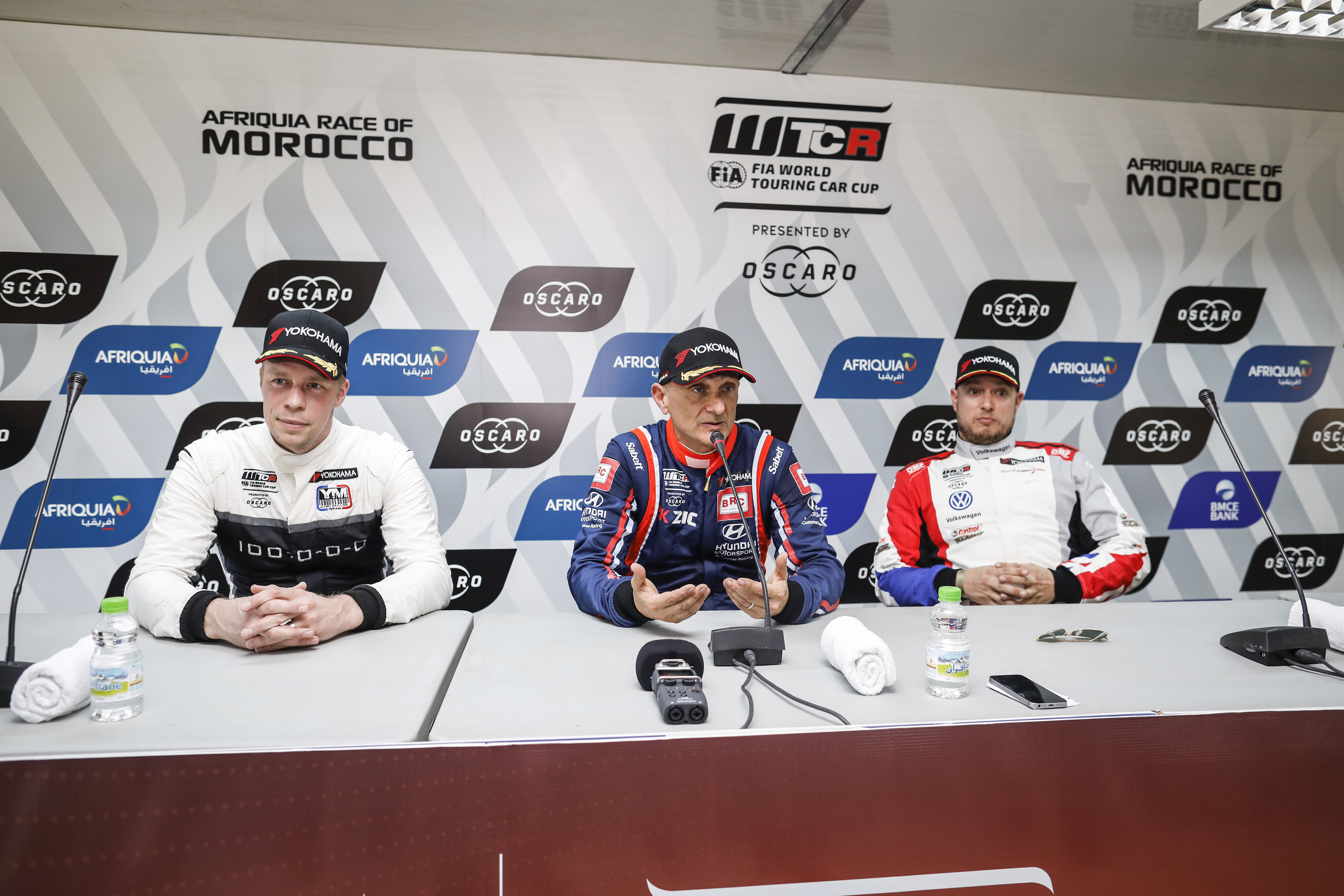 SEASON 2018SportCircuit1SportWorld Touring Car CupCircuitWTCRSEASON 2018WTCR00Saturday, April 7, 2018 – 9:22pmSaturday, April 7, 2018 – 9:22pm