Sport news
After two consecutive winter events, the third round of the 2018 FIA World Rally Championship takes the contenders to the Americas, the sunshine and gravel that is Rally Mexico (8-11 March). Celebrating its 15-year anniversary, the León-based rally has always been a firm favourite on the calendar, consistently maintaining its signature compact route, high percentage of special stages and colourful fiesta atmosphere.
Rally Mexico is the first gravel round of the season, but like the two previous events has its own unique challenge. Running in the stunning Sierra de Lobos and Sierra de Guanajuato mountains, it is quite literally breath-taking as the contenders climb to heady oxygen-sapping heights of 2,700 metres above sea level. With this brings a reduction in power and, coupled with potentially high temperatures, yet more stress on engines and transmissions as drivers are forced to adapt their driving style to minimise the effect of the altitude.
Much like last year, the Championship is again shaping up to be a very unpredictable affair with two different winners already taking the top step of the podium. Of the 11 World Rally Car drivers on the Mexico entry list, just one – Teemu Suninen – has yet to win at the highest level. He returns with M-Sport Ford and Dani Sordo is back with Hyundai, having sat out Sweden in place of team-mate Hayden Paddon. Toyota's three-car line up remains unchanged but the attention will undoubtedly be on the second Citroën C3 piloted by Sébastien Loeb. The French nine-time FIA World Rally Champion, who will contest three events this year, remains the sport's most successful driver and with 78 victories and six consecutive WRC Rally Mexico wins to his name, cannot be discounted as a serious challenger, despite being out of full time rally competition since 2013.
Three stages will be broadcast live on television; SS13 (El Brinco) on Saturday as well as the two passes of the Las Minas stage on Sunday. All stages are however live on WRC All Live on the WRC+ platform.
ROUTE GRAPHICS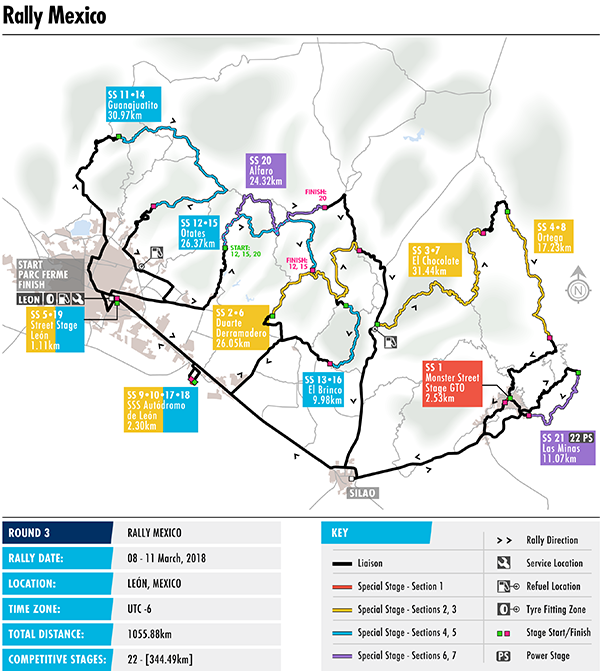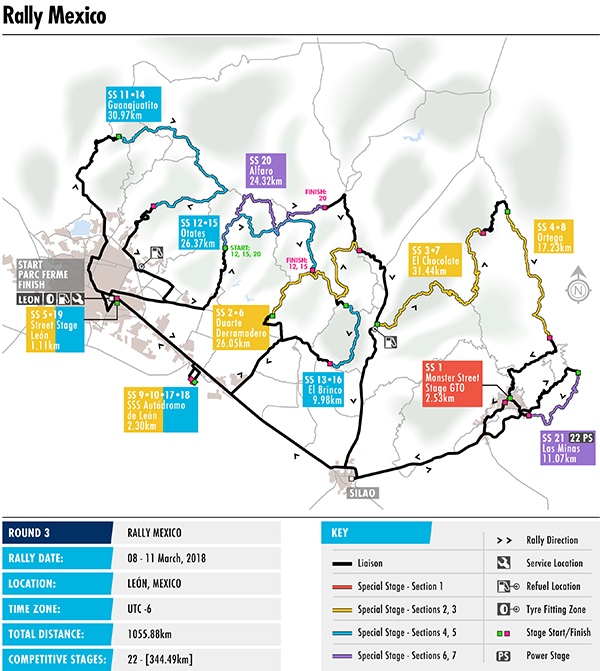 THE 2018 ROUTE
The mountain route for Rally Mexico remains largely the same as last year with only minor modifications to one of the most compact events on the calendar. This year the start and opening super special stage return to the stunning UNESCO World Heritage city of Guanajuato, where narrow cobbled streets lined with thousands of fans greet the crews and the mining tunnels provide a unique setting for the Championship's only subterranean special stage. Friday is the longest day of action and includes two runs through the longest stage of the event, El Chocolate. This is also the highest stage of the rally running up to 2,700 metres. Saturday is virtually as long and, like Friday, is rounded off with two runs around the city's motor racing circuit before returning to the service park for a sealed surface street stage. Sunday covers just three stages and 46 kilometres; Alfaro is run once followed by two passes through Las Minas, the latter run counting as the points-scoring Power Stage.
RALLY DATA
Total distance:
Stage distance:
Number of stages:

1,055.88 km
344.49 km (33%)
22
MEDIA ACCREDITATION
The Accreditation Centre is located in the Media Centre at Rally Campus, Blvd. Adolfo Lopez Mateos, Esq. Blvd. Francisco Villa, León. The opening hours are:
Tuesday 6 March
Wednesday 7 March
Thursday 8 March

14:00 – 18:00 hrs
08:00 – 18:00 hrs
08:00 – 18:00 hrs
RALLY MEXICO TIMETABLE AND MEDIA OPPORTUNITIES ORGANISED BY THE FIA
Wednesday 7 March
Mandatory media safety briefing, photographers' room
León welcome cocktail, Explora Park

Thursday 8 March
Shakedown (P1 drivers)
Shakedown (P2 and P3 drivers)
Shakedown (non priority drivers)
Meet the Crews', Service Park
FIA Press Conference, Press Room
Promotional activities, Rally Campus
Start of Section 1, Rally Campus
Ceremonial Start, Guanajuato

Friday 9 March
First car arrives for regroup, service and Media Zone
First car arrives for final service and Media Zone
'Meet the Crews', Service Park

Saturday 10 March
First car arrives for regroup, service and Media Zone
First car arrives for final service and Media Zone
'Meet the Crews', Service Park
Regroup and Parc Fermé, Service Park

Sunday 11 March
Regroup and autograph session, Guanajuato
Prize-Giving and podium ceremony, Foro del Lago
FIA Press Conference, Press Room

17:00 hrs
20:00 hrs

09:00 – 13:00 hrs
11:00 – 13:00 hrs
13:00 – 14:00 hrs
13:10 hrs
13:30 hrs
14:00 – 15:30 hrs
18:15 hrs
20:00 hrs

14:22 hrs
21:26 hrs
During the 45′ service

12:28 hrs
18:33 hrs
During the 45′ service
20:36 hrs

10:23 hrs
14:30 hrs
15:30 hrs
FIA PRESS CONFERENCE ATTENDANCE
Thursday 8 March

Sunday 11 March

Tom Williams FIA WRC 3 Championship
Benito Guerra, FIA WRC 2 Championship
Nil Solans, FIA WRC 2 Championship
Sébastien Loeb, Citroën Total Abu Dhabi WRT
Dani Sordo, Hyundai Shell Mobis WRT
Eflyn Evans, M-Sport Ford World Rally Team
Esapekka Lappi, Toyota GAZOO Racing WRT

Winning FIA WRC 3 Championship crew
Winning FIA WRC 2 Championship crew
Top three crews in the overall classification
Representative of the winning competitor
MANUFACTURER ENTRIES, RALLY MEXICO
M-Sport Ford WRT

Hyundai Shell Mobis WRT

Toyota GAZOO
Racing WRT

Citroën Total Abu Dhabi
WRT

Sébastien Ogier / Julien Ingrassia (#1)
Elfyn Evans / Daniel Barritt (#2)
Teemu Suninen / Mikko Markkula (#3)

Andreas Mikkelsen / Anders Jæger (#4)
Thierry Neuville / Nicolas Gilsoul (#5)
Dani Sordo / Carlos del Barrio (#6)

Jari-Matti Latvala / Miikka Anttila (#7)
Ott Tänak / Martin Järveoja (#8)
Esapekka Lappi / Janne Ferm (#9)

Kris Meeke / Paul Nagle (#10)
Sébastien Loeb / Daniel Elena (#11)
ADDITIONAL MEDIA OPPORTUNITIES
Autograph Signing Session: On Friday and Saturday selected crews will be available for a 15 minute autograph session. This will take place in the service park during the end of day service at the teams' service areas.
FIA WORLD RALLY CHAMPIONSHIP CLASSIFICATIONS
The provisional classifications for all the WRC Championships can be found on the following link:
www.fia.com/events/world-rally-championship/season-2018/standings
STAGE CHART
Shortly after the finish of the event, a downloadable stage chart showing the progressive positions of the leading crews during the rally will be available. This is copyright free for editorial purposes and available at the following link:
www.fia.com/events/world-rally-championship/season-2018/stage-chart-1
Rally MexicoWRCWRC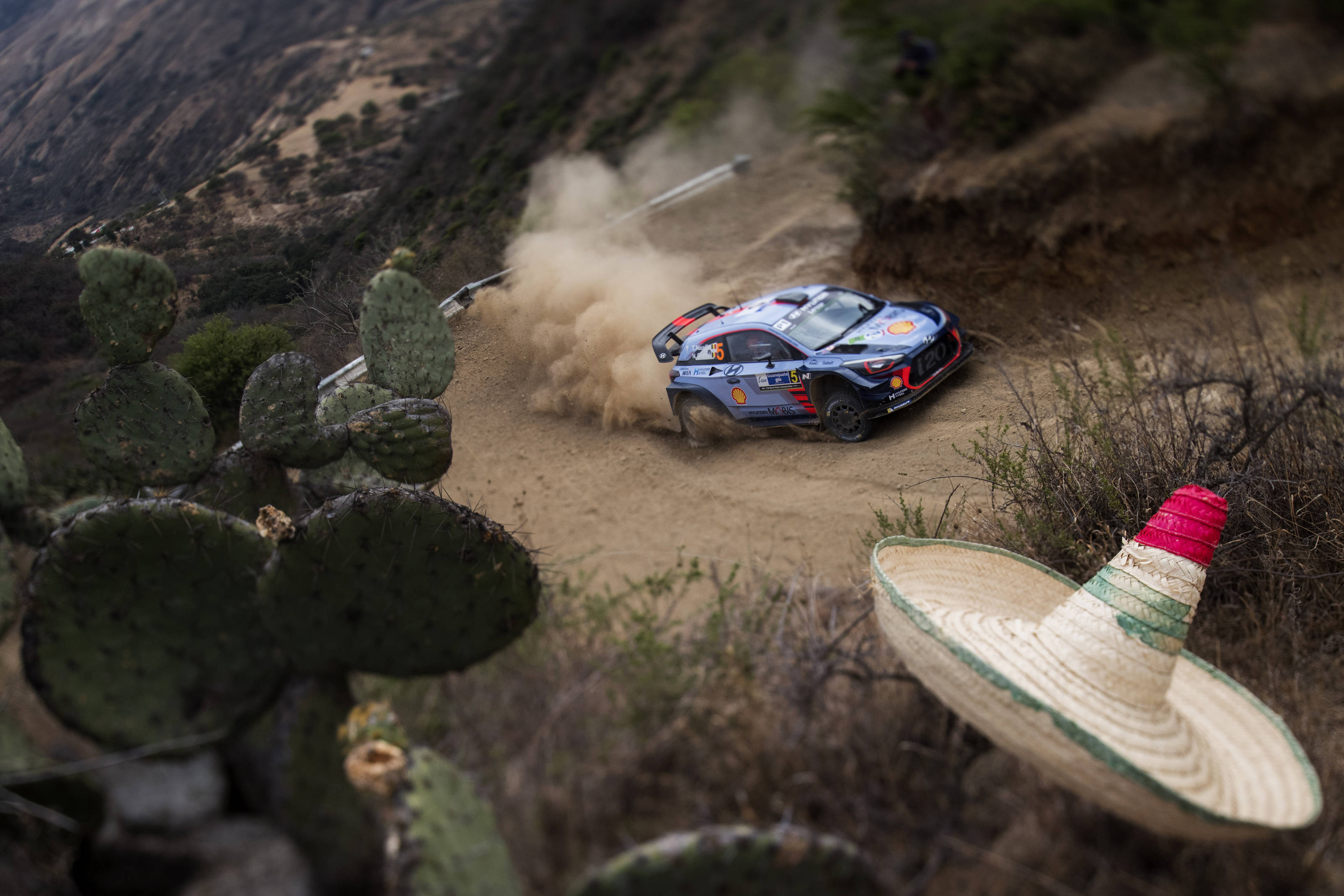 SEASON 2018SportRallies1SportWorld Rally ChampionshipRalliesWRCSEASON 2018Rally MexicoWRC01Friday, March 2, 2018 – 4:28pmFriday, March 2, 2018 – 4:28pm