Sport news
*It's official! Thed Björk is FIA World Touring Car champion for 2017
*Alexander Murdzevski Schedvin collects FIA Manufacturers' prize for Volvo Polestar
*Runner-up Norbert Michelisz and third-placed Tom Chilton also honoured in Paris
*New video premiered at Château de Versailles event marks start of exciting new WTCR era
WTCC champion Thed Björk (Polestar Cyan Racing) collected his first-place trophy, Norbert Michelisz (Castrol Honda World Touring Car Team) picked up the runner-up award, while Tom Chilton (Sébastien Loeb Racing) accepted his prize for finishing third in the overall standings.
Meanwhile, Alexander Murdzevski Schedvin, Head of Motorsport at Polestar, also savoured a night of WTCC celebration when he was handed the FIA World Touring Car Championship for Manufacturers' trophy following Volvo Polestar's stellar season, which included wins for Björk and team-mates Nicky Catsburg and Néstor Girolami, plus a one-off return by four-time world champion Yvan Muller at the season-closing WTCC Race of Qatar.
"To become the first ever Swedish racing world champion is something I have dreamt about since I started racing," said Björk, who claimed the title following a six-way showdown in Qatar exactly one week ago (1 December). "This is by far the greatest moment of my racing career and to be here with all these other FIA world champions is an incredible experience. A massive thank you to everyone in the team, they are as much world champions as I am."
Michelisz said: "I'm very proud to have finished second in the championship. It's the best season of my life and I did the best job I possibly could. Hopefully I'll have an opportunity to come back next year and go one better."
Chilton said: "This is a dream come true. The WTCC drivers are some of the best in the world and we pushed each other so hard. I was delighted with third place overall, the best by an independent driver in the TC1 era, and to win the WTCC Trophy. I am incredibly proud of my team, Sébastien Loeb Racing, and very grateful to my sponsor, A.J. Gallagher, for for putting me in a position to challenge the best."
Murdzevski Schedvin said: "We entered the WTCC last year with a five-year plan to become world champions. We did it in just two. We have exceeded all of our expectations and goals this season. Thed has done an awesome job and is a worthy champion. The team has put down thousands and thousands of hours to claim the world title, I can't thank them enough. This is the proudest moment in the history of our team and I am so proud to be able to say that we are the world champions."
The FIA Prize Giving ceremony brought the curtain down on a thrilling, wide-open World Touring Car Championship season and, indeed, an entire era. From 2018, the WTCC will be renamed the FIA World Touring Car Cup (abbreviated to WTCR). It will run to the TCR technical regulations under a two-year licensing agreement between the FIA, WTCR promoter Eurosport Events Limited (EEL) and WSC, owner of the TCR concept and trademark. The calendar will be announced in due course. And to mark the end of an area, WTCC promoter Eurosport Events produced a special video, which included appearances by several WTCC drivers past and present and will be available to view on the WTCC's social media channels soon.
FIA WTCC 2017 AWARD WINNERS
FIA World Touring Car champion driver: Thed Björk (Sweden, Polestar Cyan Racing, Volvo S60)
Runner-up: Norbert Michelisz (Hungary, Castrol Honda World Touring Team, Honda Civic WTCC)
Third place: Tom Chilton (Great Britain, Sébastien Loeb Racing, Citroën C-Elysée WTCC)
FIA World Touring Car champion manufacturer: Volvo Polestar (Polestar Cyan Racing)
FIA WORLD TOURING CAR CHAMPIONSHIP HALL OF FAME
| | | |
| --- | --- | --- |
| Year | Driver (NAT) | Manufacturer |
| 2017 | Thed Björk (SWE), Volvo S60 Polestar | Volvo Polestar |
| 2016 | José María López (ARG), Citroën C-Elysée WTCC | Citroën |
| 2015 | José María López (ARG), Citroën C-Elysée WTCC | Citroën |
| 2014 | José María López (ARG), Citroën C-Elysée WTCC | Citroën |
| 2013 | Yvan Muller (FRA), Chevrolet Cruze 1.6T | Honda |
| 2012 | Rob Huff (GBR), Chevrolet Cruze 1.6T | Chevrolet |
| 2011 | Yvan Muller (FRA), Chevrolet Cruze 1.6T | Chevrolet |
| 2010 | Yvan Muller (FRA), Chevrolet Cruze 1.6T | Chevrolet |
| 2009 | Gabriele Tarquini (ITA), SEAT León TDI | SEAT |
| 2008 | Yvan Muller (FRA), SEAT León TDI | SEAT |
| 2007 | Andy Priaulx (GBR), BMW 320si | BMW |
| 2006 | Andy Priaulx (GBR), BMW 320si | BMW |
| 2005 | Andy Priaulx (GBR), BMW 320i | BMW |
| 1987 | Roberto Ravaglia (ITA), BMW M3 | Ford Texaco |
World Touring Car Championship
WTCCPrize GivingWTCC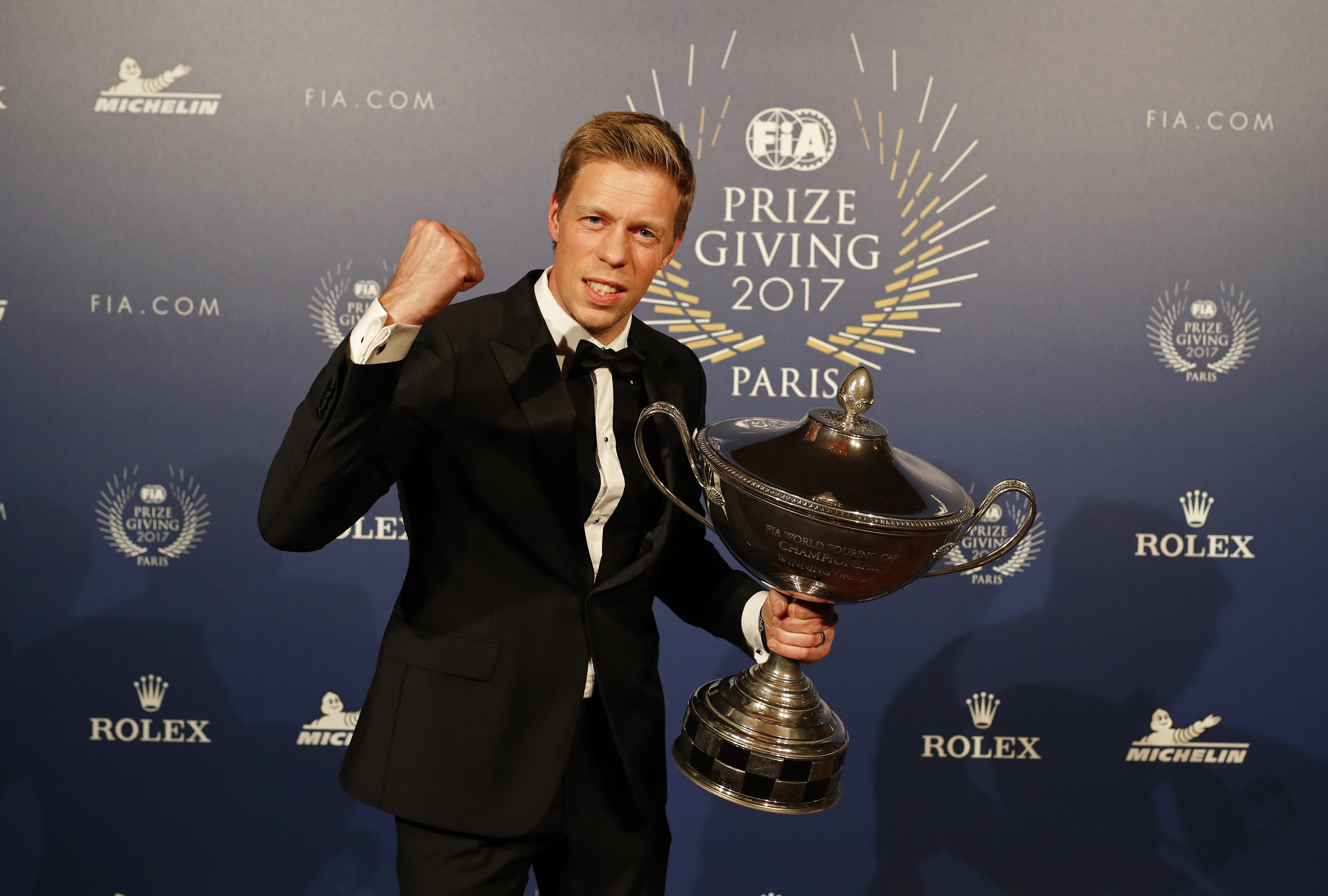 SEASON 2017SportCircuit1SportWorld Touring Car ChampionshipCircuitWTCCSEASON 2017WTCCPrize Giving00Monday, December 11, 2017 – 11:14amMonday, December 11, 2017 – 11:14am