FIA news
Highlight of the annual gala show was the presentation of the FIA Formula One World Drivers' Championship Trophy to Lewis Hamilton.
The Mercedes driver lifted the World Championship trophy for the fourth time in his career, a remarkable feat that puts him level with French Formula One legend Alain Prost and his great rival for this year's title, German driver Sebastian Vettel of Ferrari.
The Briton took nine victories during 2017, scored points in every grand prix of the season and along the way established a new benchmark of 72 career pole positions, beating Michael Schumacher's previous record of 68. However, despite the record-breaking season, he said that he could not see himself eclipsing the German great's seven championship titles.
"It's taken me 10 years to achieve four," said Hamilton. "I currently don't have that desire to match [Schumacher's] seven, but matching Fangio [who scored five titles] would be quite cool. Given that I'm going to be here for at least another couple of years, that's my goal. To try and at least get that. We [he and Mercedes] definitely have more championships to win together."
In rallying, Sébastien Ogier's fifth consecutive FIA World Rally Championship title puts the Frenchman into sole second place in the list of multiple title winners, ahead of legendary flying Finns Juha Kankkunen and Tommi Makinen.
Ogier's 2017 championship victory is perhaps his sweetest to date, coming after the departure of the all-conquering Volkswagen factory team with which he had achieved his previous four titles, and being achieved with privateer outfit M-Sport.
Ogier said: "It's amazing and we are very proud that we managed it again this year, because I think everyone is aware of the challenge we had to face with the retirement of our old team, and we had to find a new solution at the last minute. I think it's been a very difficult season for us: very exciting, and very open, with a lot of different winners in WRC, but it's nice to come out on top once again and to be here today to grab the trophy for a fifth time."
In the FIA World Endurance Championship, Germany's Timo Bernhard and New Zealand duo Earl Bamberand Brendon Hartley took the Drivers' Championship title, helping Porsche to sign-off on a four-season stint in the Championship with a third successive manufacturers' title.
A mid-season hot streak of four wins gave the trio a solid platform, and second-place finishes at the final two events were enough to seal a maiden title for Bamber and second championship crowns for Bernhard and Hartley, who also took the crown with Porsche in 2015.
"From the word go it was a tense battle this season," said Hartley. "The first round at Silverstone was won or lost by about six seconds and when you're second that's quite a brutal result, so we knew it would be tough. But winning the 24 Hours of Le Mans helped our cause a lot, so yes, it was an intense battle but fortunately we were up to the job."
There were also new global trophies up for grabs in the FIA WEC, with the LMGTE Pro category being elevated to World Championship status in 2017. And it was Ferrari that emerged as the team champions, with the Italian squad's pairing of James Calado and Alessandro Pier Guidi emerged victorious.
In the FIA World Touring Car Championship, Sweden's Thed Björk made history, not just in winning his first FIA world title but also in becoming WTCC's final champion in its current form, with the series bowing out from today, to be replaced by a new series, the WTCR – FIA World Touring Car Cup in 2018. Over the course of a rollercoaster campaign, Volvo Polestar driver Björk scored two wins and seven podium finishes to beat Honda's Norbert Michelisz in a titanic battle that went down to the wire at the final event in Qatar.
Sweden's 2017 haul of world drivers' titles was doubled by Johan Kristofferson who took a maiden FIA World Rallycross Championship title ahead of compatriot Mattias Ekström.
Ekström opened his title defence with a trio of victories but after scoring his first win of the season in Belgium, Kristofferson rattled off a five-event run of victories to establish that allied to a final-round win in South Africa carried him to the title.
The FIA's future-focused, all-electric 2016/17 Formula E Championship was won by Lucas Di Grassi who took the title at the end of a nail-biting, down-to-the-wire fight with defending champion Sébastien Buemi. The Swiss racer took six wins to Di Grassi's two, but the Brazilian was a model of consistency, scoring five further podiums and three pole positions to edge the battle as Buemi suffered a series of second half mishaps and a brace of missed races due to other racing commitments.
A number of special FIA awards were handed out on the night. For a remarkable third year in a row Max Verstappen won the FIA Personality of the Year while the FIA Action of the Year Awards went to WRC driverEsapekka Lappi for his spectacular 33m, 120kph flight over the Fafe jump at Rally de Portugal. Formula 2 Champion Charles Leclerc, recently announced as 2018 Formula 1 driver with the Alfa Romeo Sauber F1 Team, won the Rookie of the Year Award.
The FIA President's Award was this year expanded not only to incorporate those that have displayed courage, determination and sportsmanship but to also include those that have contributed greatly to the broader FIA community. The first of two awards in the category was presented to Jean-Charles Decaux, Co-Chief Executive Officer of the JCDecaux Group.
In 2017, in partnership with the outdoor advertising giant, the FIA embarked upon an ambitious campaign named #3500LIVES that brings key road safety messages to a global audience using the JCDecaux's advertising spaces around the world. To date the campaign has generated an estimated 1.5 billion views in 900 cities in more than 75 countries.
The second FIA President's Award was presented to Billy Monger, the young British driver who in April 2017, at the age of just 17, suffered a horrific accident while competing in Formula 4. The crash resulted in Billy losing both legs, but his response was truly inspirational. Displaying immense courage and positivity he vowed to return to motor racing and just 11 weeks after sustaining life-changing injuries he was back behind the wheel of a specially adapted endurance car.
The stars of the future were also honoured in Paris, with champions from across the FIA single-seater pyramid being presented with their trophies. In Formula 3, Briton Lando Norris , took an emphatic title win in the FIA Formula 3 European Championship, taking nine wins from 30 races across 10 event weekends. In Formula 4, the winners from 12 championships (Australia, Britain, China, Germany, Italy, Japan, Latin America, North East Europe, the UAE, Spain, the US and South East Asia) were awarded their trophies.
CIK-FIA World Karting Champions Dexter Patterson, Paolo de Conto and Danny Keirle were also awarded their trophies, marking an important milestone in what will likely become fascinating careers in motor sport.
To download images of the FIA Prize Giving, please go to: https://www.flickr.com/photos/fia-official/
Prize GivingAll fia sport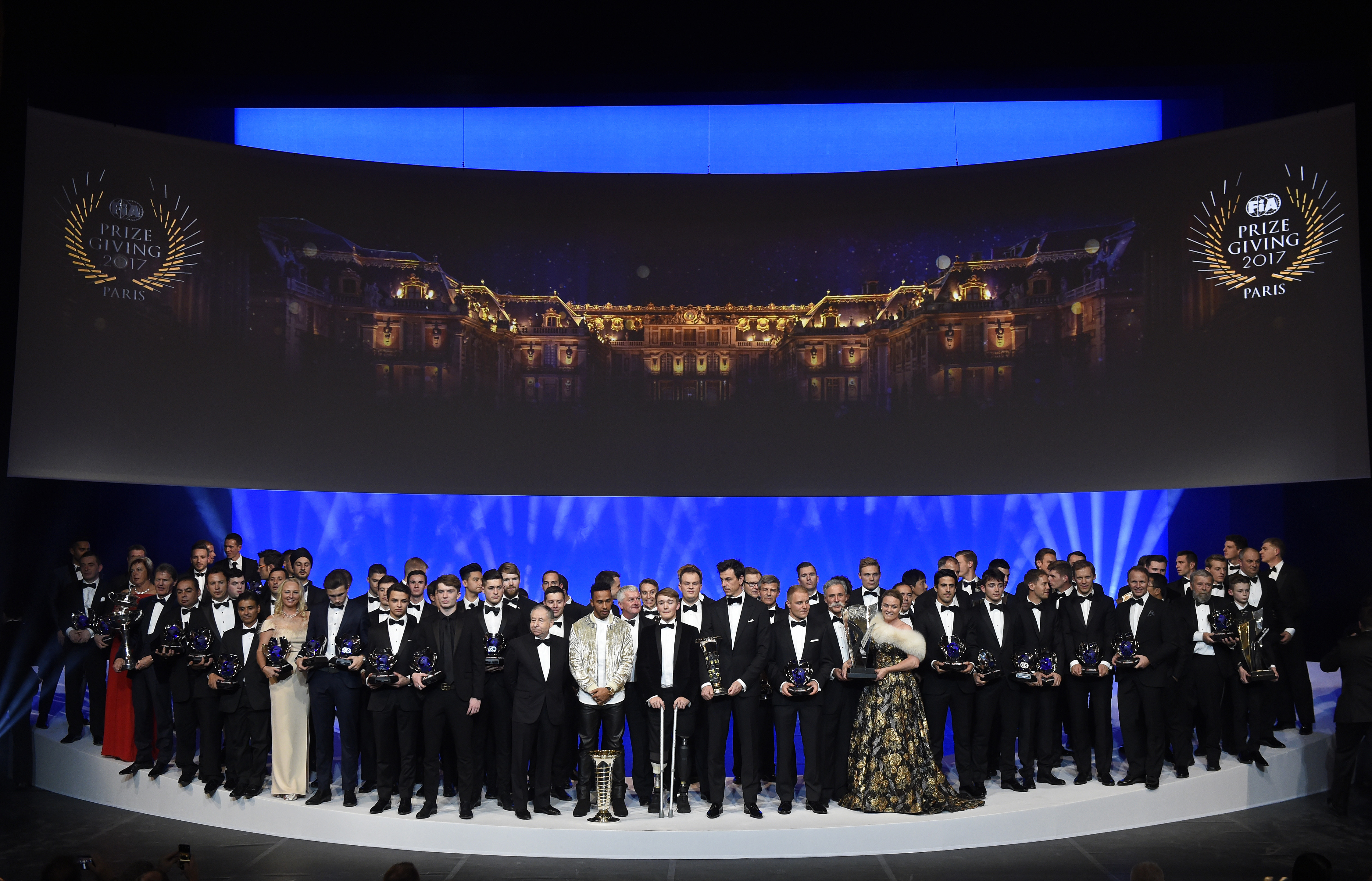 FIA1FIAAll fia sportPrize Giving00Saturday, December 9, 2017 – 12:33pmSaturday, December 9, 2017 – 12:33pm