Sport news
Press Conference Room, Media Centre, Losail International Circuit, 23h00, 1 December
Present:
Tom Chilton, Sébastien Loeb Racing, Opening Race winner
Kevin Gleason, RC Motorsport, Opening Race third position
Esteban Guerrieri, Castrol Honda World Touring Car Team, Main Race winner
Rob Huff, ALL-INKL.COM Münnich Motorsport, Main Race second position
Nicky Catsburg, Polestar Cyan Racing, Main Race third position
Thed Björk, Polestar Cyan Racing, 2017 FIA World Touring Car champion*
Q:
We'll start with Thed Björk, the 2017 FIA World Touring Car champion. You arrived in Qatar leading the championship by 6.5s and you leave as the winner. How are you feeling right now?
TB:
It's indescribable actually now I've calmed down a bit but it was completely crazy at the beginning with so much feelings going around. I felt really good driving today. It obviously made it easier with the problems Honda had with Norbert but I feel like I've been putting the championship together all year. For me I felt like I won it in Macau because it was my first time there and these guys had been there and new the place and I was just trying to keep the lead because Norbert was really fast there. But it just feels good now.
Q:
Two years ago Polestar Cyan Racing didn't really exist as a Wold Touring Car Championship team but they leave Qatar with two titles. Just explain the effort and hard work that's gone into this and the talent behind the scenes?
TB:
It's fantastic to be a part of the group. We fight so hard like all race teams do to win championships and to win races. If you set a goal and achieve it, it's unbelievable. We set the goal this year to be champion because that was not the goal at the beginning. We were going to take more years to try to get the world title but my boss said 'do it now, do it this year'. So lots of pressure but he also said we're going to have fun and we have fun winning and that's the point. It's such a goal to set-up and I'm so happy to be a part of it with Nicky, Néstor and Yvan and we all had a part in it. But I would also like to send my thoughts out to Tiago because he had to leave the championship because of an accident and we all know what happened. Big respect to Tiago and I am missing him a lot and I send all my best to him. I hope he can come back and take another championship because I think he's worth it. It feels good to be here but it would be nice to fight with Tiago as well. And Yvan's back and he was really fantastic holding Rob back in the Opening Race. It was a really good team effort and much more easy for me to just drive.
Q:
Turning next to Tom Chilton because there are two champions in the room tonight and after finishing third two years ago and second last year you're now the WTCC Trophy winner. How good does that feel?
TC:
It's a dream come true if I'm completely honest and congratulations Thed, a fantastic job buddy. I'm very happy for Thed and all at Cyan Racing and Volvo, they've done a great job this year. It's nice to have a fight with great drivers and all the drivers on this grid are the best in the world and it's a pleasure to drive on track with them. I don't think people realise how enjoyable it is and how much you are learning from these guys. Last year I finished second and I was a bit gutted but now I've actually got the trophy so it's a dream come true.
Q:
Just talk us back through the Opening Race and your battle with your team-mate Mehdi Bennani, there were a couple of brushes between you?
TC:
It was a proper fight with Mehdi, it was a fight for the title and it wasn't handed to me on a plate. Respect to Mehdi because he's been a fierce competitor all year, just like Rob Huff was for the WTCC Trophy. It wasn't easy at all and I'm just really, really happy. The second half of the year for me was a lot better than the first half and it really came right for me.
Q:
Turning next to Kevin Gleason and your first podium in the WTCC. Congratulations on that achievement but starting from the DHL pole position in the Opening Race you must have been hoping for more?
KG:
For sure I obviously wanted to win really badly but ultimately we just didn't have the pace in our car today. I spoke to Yann [Erhlacher] and we both had the same balance issues. These guys were super-fast and I definitely didn't stand a chance so I didn't fight too hard and once they got by I just tried to focus on my race, be consistent and not make any mistakes. I have to be pleased with P3.
Q:
Coming next to Rob Huff, second position in the Main Race but a big battle with Yvan Muller in the Opening Race. Just explain what that was like – a bit of history repeating itself?
RH:
It was like 2009, 10, 11, 12 all over again. It was actually really enjoyable, it's fantastic to have him back. He's a pain in the arse still, very difficult to overtake but it was nice memories you know. It was like old times but it was tough. The problem here is as soon as you get close to the car in front you loose all front-end grip and it's really difficult to overtake someone. As always Yvan has not lost any of his charm when it comes to car positioning and he made life very difficult but race drivers have got to be tough like that. The Main Race was pretty much as I would hope it would go. I knew Esteban would be very quick in the Honda so I did my best to get by Nicky at the start, kept him out wide and I managed to get the position.
Q:
Turning next to Nicky Catsburg, now your team-mate Thed has talked about the work of Polestar Cyan Racing and you've obviously been a beneficiary of that but what does it mean to be a part of that, especially on a day like today?
NC:
Well it means a lot. It was the objective of the team to win both championships in their second year and we did it. After first practice Norbi was much quicker than us, we were a little bit scared I must say but qualifying today changed the dynamic and we delivered in the races. It's really great to be a part of it, Thed did a fantastic job all season. He's such a calm professional and he's always delivering a performance and really well done to him, a fantastic driver. I must say the day would have been even greater if we'd had Néstor [Girolami] here to celebrate. I'm sure he's at home watching. He's been a big part of it, he's a great guy and a great driver and I would love to have him here. We all know Yvan is a fantastic driver, he's an asset to any team so it was great to have him all year but big congratulations to everyone.
Q:
And just a quick word on that final lap because you started in fourth and finished third so what was going on with Thed, what was the radio message from the team?
NC:
Obviously at the start Rob passed me and it was a bit of a ballsy move…
RH:
What was the radio message? Don't bother about the start…!
NC:
The radio message was 'can you let Thed pass' so I let Thed pass and at the end of the race he let me pass.
TB:
The radio message was 'Thed is faster than Nicky'!
NC:
No, Thed gave me a present so thanks for that!
Q:
Turning next to Esteban Guerrieri, winner of the Main Race for Honda. Can you reflect on that success but what's the moode like in the team right now having lost both championships?
EG:
First of all, congratulations to all the guys around the table but especially Thed. The new world champion and very well deserved and for all the Volvo team after a long time. I actually came to Honda a few races before the end and we were really focused on catching up to them and it was a really nice fight but they won it so fair play and congratulations. From our side first it's important to talk about the luck that sometimes doesn't play in your favour and that was the case for Norbi and I'm gutted with this situation. It was difficult to help him in the championship in the end so in the Main Race we just decided to go for the win. My car really improved for the Main Race, having nobody in front of me helped because I obviously had clean air, but my car was mega, the best car I ever drove and it's big thanks to all the Honda team. I am really thankful for all this year and everybody who created this opportunity for me. It was really like a rollercoaster year for me, it was incredible. In March I didn't even know I would be at the first race but I managed to get some wins and the Honda thing happened, unfortunately because of Tiago's accident. He's here and he will be back next year even stronger and I'm happy for that too. So in the end it was a mega year and I'm really thankful to everybody.
Q:
And you did a fantastic at the end of the Main Race bringing Tiago to celebrate with you. Just explain why you did that?
EG:
I wanted to share this moment with him, he's had really tough times, he's pushing and as much as we're pushing in the car he's pushing with his health. I wanted to share with him this moment.
Q:
Finally, turning back to Thed you said you always wanted to be a world champion from an early age and now you are a world champion. Just a quick comment on what it all means?
TB:
When I was young I wanted to be Formula One world champion, when it wasn't possible because I'm too old and fat! It's unbelievable. Imagine living your dream and I think a lot of us are living our dream as race car drivers. This title I got but I'm still living my dream by being a race car driver and I'm really happy to share this with you all and I feel big respect from everyone.
World Touring Car Championship
WTCCRace of QatarWTCC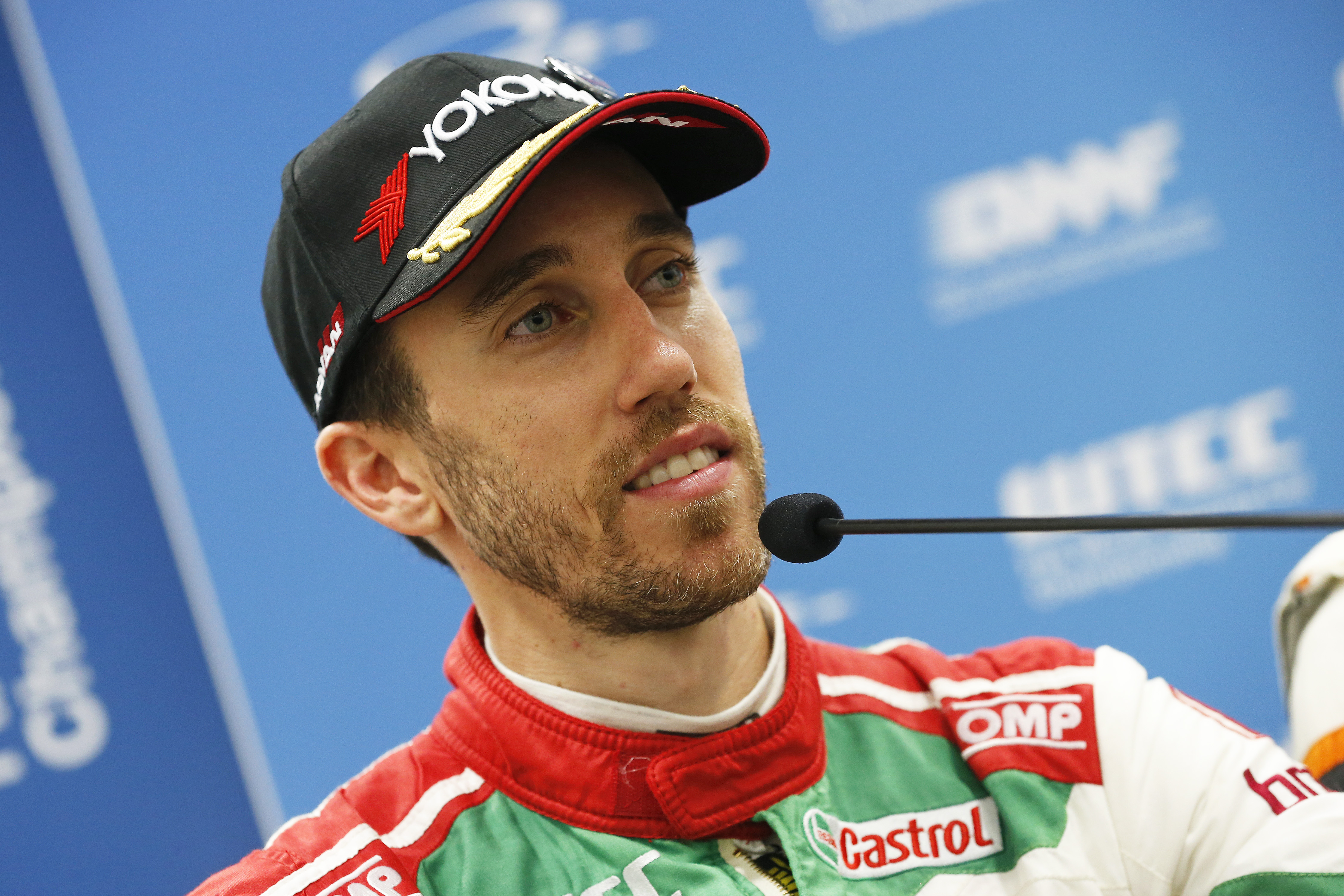 SEASON 2017SportCircuit1SportWorld Touring Car ChampionshipCircuitWTCCSEASON 2017WTCCRace of Qatar00Saturday, December 2, 2017 – 5:13amSaturday, December 2, 2017 – 5:13am