Sport news
Present:
1st – Elfyn Evans, M-Sport World Rally Team
1st – Daniel Barritt, M-Sport World Rally Team
2nd – Thierry Neuville, Hyundai Motorsport
2nd – Nicolas Gilsoul, Hyundai Motorsport
3rd – Sébastien Ogier, M-Sport World Rally Team
3rd – Julien Ingrassia, M-Sport World Rally Team
Malcolm Wilson, Team Principal, M-Sport World Rally Team
Q:
Elfyn, congratulations! You claim your maiden WRC win on home soil, how do you feel?
EE:
Pretty good!
Q:
Pretty good?
EE:
Yeah… it was a tough day yesterday and, to be honest, it's been a long weekend. I think I'll sleep for a couple of days now, but overall I'm really pleased and combined with everything else for the whole team, with Seb and the manufacturers' crown, it's been a special day.
Q:
How nice was it having your family and friends at the end of the last stage?
EE:
I've been very lucky to have a lot of support, not just from my family, but a close network of people from M-Sport as well – to see everybody there at the end was pretty special. There were so many people, I don't think Brenig's ever seen so many people!
Q:
You seemed really calm and confident throughout the event, is that how it felt in the car?
EE:
After shakedown I think we knew that if conditions came to us then we had the speed there to challenge for victory. But you can never predict anything with this rally. To have a clean run with no problems and no mistakes, no spins, is very difficult here. And we've had to balance the endurance of the tyre package, we've had the performance, but we've had to manage the life of the tyres as well. All-in-all, it came together. But in terms of the feeling, I felt it was within my reach all the time, I wasn't too stressed.
Q:
Were there tears at the finish?
EE:
I just about held them back.
Q:
Has it made you hungrier for more wins?
EE:
Yeah definitely. Thierry [Neuville] denied me the first time around, but to be honest half way around I was determined nobody was going to get in the way this time. I like this feeling and want more of it.
Q:
Dan, you're an emotional man, does winning at home live up to the expectation?
DB:
It's hard to describe. I've been rallying a bit longer and it's taken me a long, long time to get here. It was 17 years since my first Rally GB. The family were all here and to see all the people on the stages and people at the finish, it's incredible. We'll take this away from here and build in the future to make it happen again.
Q:
Did you always believe it was possible?
DB:
We were a bit unsure before we went to shakedown, but once we got through there and then carried the pace into the rally it was good. The first few stages on Friday showed we had enough to at least challenge but as the weekend went on we got stronger and stronger and yesterday we had a really strong morning. It got better from there.
Q:
Tears for you?
SO:
One or two…
Q:
Thierry you gave it everything in that Power Stage…
TN:
I did. It's not the first time we had to give it everything this weekend. We started the weekend very badly with the issues on the first stage, that was a big set-back, but we continued pushing and continued to believe we could defer the decision [for the championship] until the last round of the calendar. We have done the maximum and the team has done the same, but Seb was good enough to secure the title here. Congratulations to them, it was a great fight. Everybody has enjoyed this year, even me, even if I know I will be second or third in the championship. But it was a great fight and a huge plus – we can be satisfied.
Q:
This battle carries on next year?
TN:
I'll be there with the same car and the same team. The guys next to me will have some announcements in the next weeks, days or hours. But I'm going to be there and trying to be stronger than this year.
Q:
Is it flat-out in Australia now?
TN:
That will be the goal of many drivers. Me and Ott [Tänak] will fight for the second place, but I would be happy with a win there as I would be with second place [in the Championship]. I'm definitely going to push as hard as I can, but it won't be easy second car on the road. We have seen a lot of surprises even when there has been some road-cleaning when we were able to get the podium. So we go for it.
Q:
Nicolas, this is a good result?
NG:
Yes, it's been a fantastic rally here and this has been our best season so far – even if the best is still to come. This rally has been really challenging and demanding, it's been really difficult for me after I started to lose my voice on Friday and yesterday was not so nice. Thierry managed very well to understand my new voice, but now it's coming back. Overall I'm happy with the weekend and our result.
Q:
Seb, five-time FIA World Rally Champion*… talk us through the feeling.
SO:
Emotion is something you cannot control. What is beautiful is that it's true that on the short period of time like, I don't know, some minutes, this is the strongest emotion I have been having in a rally, not in my life – when my son was born it was even more special. But today, I don't know why, it's hard to explain. I don't know why I felt like this, but it was really, really good what we did. We won this bet we have done, OK not a bet, but this challenge we took. Yeah I felt very proud and happy for the whole team. Malcolm [Wilson] and all his guys never had this happen to them before, but it's well deserved what the team achieved and to do it with a smaller budget than the manufacturers, it's amazing.
Q:
It's been a hard-fought year with so much competition…
SO:
I can easily say this has been the most competitive WRC season I ever drove and this is the case for the championship in general, it's been really good for the sport. Thierry was saying before he enjoyed it and it was good to see so many different winners and to have every team winning a minimum of two races. It's been good to be part of this and with the new car it was also the most fun with the fastest WRC car ever. For a racing driver, it's incredibly enjoyable to drive these incredible fast cars. I had to fight hard, maybe harder than the year before – it may have looked easy in the past, but it was not always. I have to say Elfyn has done an amazing job. Some people could say it was easier when they had the right tyres, but especially in Wales in these conditions – like last night, it was horrible in the fog – but he didn't put a foot wrong. Well done to him and Daniel, they have done it.
Q:
With five titles, do you feel the same passion to continue next season?
SO:
Five is just a number. Of course it's a nice one, and I could never imagine this success, I could never imagine the chance to drive in this championship, so being in this position feels great and I am even more happy that I felt this emotion today – yes, this sport still gives me strong emotion. Right now I have no announcement, maybe soon. I'm sure some of you here have made the right guess or the right bet, but I'm not 100 per cent sure, I'm still thinking and still analysing. There is one offer from my wife and she's pushing pretty hard to keep me home, but I know I still need some adrenalin, let's see.
Q:
Congratulations Julien. How does it feel for you?
JI:
You spoke about emotion… in my mind I was not going to say stupid things, because what Seb said, I felt this deep inside, this great feeling of emotion. When we made this result I just wanted to be with the team to shake them in my arms, it's really unique and I'm glad of my career so far…
SO:
…so far… he's thinking about the words he's saying!
JI:
I know the words I am using. No, I have to say it's been really great. When I see our wonderful Anna [Rudd, team PR] having some tears in her eyes after all those efforts in the team, it's what we feel deep inside. Thank you Malcolm for what you gave us this year. We took this bet, this challenge, but we needed to work together and give it all we could. I'm sure the guys didn't have so many weekends [off], so we need to dedicate this championship for them. So, thank you.
Q:
Do you have the same passion to carry on?
JI:
When you live a stage like we had yesterday by night in the darkness and fog you realise you live something unique.
SO:
You wanted to say crazy…!
JI:
Unique, crazy, whatever you want. It has been many reasons that I am happy to win this championship. We had some ups and downs, all of us, and we have our lives and we can be really happy of this one. I want to take time to enjoy it – for the future we will say the present is so nice, let's stop on it.
Q:
Malcolm you wanted the drivers' title so badly, today you got both. How do you feel?
MW:
It is emotional. There have been a few tears today at various points. When Ott crossed the line it was the manufacturers', then Sebastien for the drivers' title, then Elfyn won the home Wales Rally GB, it was the triple crown I think. This emotional day started with the journey after Australia last year, when Sebastien came to drive our new car. Once he drove the car, that was the easy part… the difficult part started with the negotiations. When I retire Sebastien's coming to be Managing Director of M-Sport because he is a very, very good negotiator! I really want to take this opportunity to thank Sebastien and Julien. This was exactly what we needed. It was not a difficult decision in my head to take, but thinking on the commercial side… I was not successful when I tried to sign him in 2011 or whenever it was, but I felt I would never get another opportunity to have the world's best driver in the car again. I can't tell you what a difference it's made. The commitment and dedication it's brought is just incredible. It's easy to see why he's a five-time world champion. And it's great what he brought to Elfyn and to Ott, they learned they don't need to be fastest on every stage – we've all benefitted, so it's a big thank you from me.
SO:
Thank you Malcolm.
Q:
You've produced the perfect season from a team and a budget much smaller than the rest…
MW:
Yeah, but we have a great team of people and don't forget we've been in the business a long time, for 20 years and we only had two titles, so maybe it's long overdue. The guys did a great job. When we started this year, with these new cars, I really felt reliability would be key and, touch wood, that's gone well for us. We have been on the podium on every rally and we're the only manufacturer to have all three drivers win an event. I'm extremely proud of what we've achieved in beautiful Cumbria.
Q:
Have you signed these two for next year?
MW:
It's a work in progress, but there's no question, if there's any way to keep Sebastien and Julien in the car, there's nothing I would like more – that's all I would like to say.
Q:
And Elfyn?
MW:
I'm looking at him now, he should be OK.
FIA WRC 2 CHAMPIONSHIP
Present:
Pontus Tidemand, Škoda Motorsport
Jonas Andersson, Škoda Motorsport
Q:
Pontus, congratulations. How was it for you? Could you enjoy the event?
PT:
Yes, I really enjoyed it from the first stage. We had a lot of fun and a good car and good preparation. We just drove and had fun.
Q:
Were there any problems?
PT:
No. We were quite sideways in some places in the mud, but that's just normal.
Q:
How much of a challenge were those stages?
PT:
Yes, they were challenging. It's only my second time here, but… how to say, I think it was a classic Wales. I find it quite well, there was no one stage that was more difficult than the other. We just drove on and had a good pace. This was only my second time here on this rally, Jonas has done it a few more times than me, maybe he knows more.
Q:
I think there was one was more challenging… the one in the fog?
PT:
Yeah, maybe you are right.
Q:
But you set a great time through there Jonas…
JA:
Yeah, it's difficult to know in the fog how you are doing. Sometimes you get more vision, we put the full lights and it was like a wall. Then we found the good rhythm and balance. We speak at the end and I thought we might lose a minute or we could make some time. But it was a good rhythm. I said I couldn't see anything in there and I was hoping he would say something else, but he said: "I couldn't see anything either!"
Q:
You must have had good confidence, Pontus?
PT:
Yeah for sure, but Jonas was good. He was working well on the notes. It was all good team work.
Q:
Jonas, what did you think of the route?
JA:
For me, the route is very, very nice. I like the stages and the roads are in good condition. It's always challenging and tricky. With these conditions, with the weather a bit drier, it's still been quite muddy on the road and this has made it more tricky with grip changes, some corners were more slippery than we would have thought. But very nice overall.
Q:
What's next for you Pontus?
PT:
We have some celebrations with Škoda. It will be busy in a good way.
Q:
Everybody's asking about next year, is there a WRC opportunity for you Pontus?
PT:
For the moment, we don't know anything. We are Škoda Motorsport drivers and we do this rally first. For the moment, I don't know anything.
* Subject to the official publication of the results by the FIA
Rally GBWRCWRC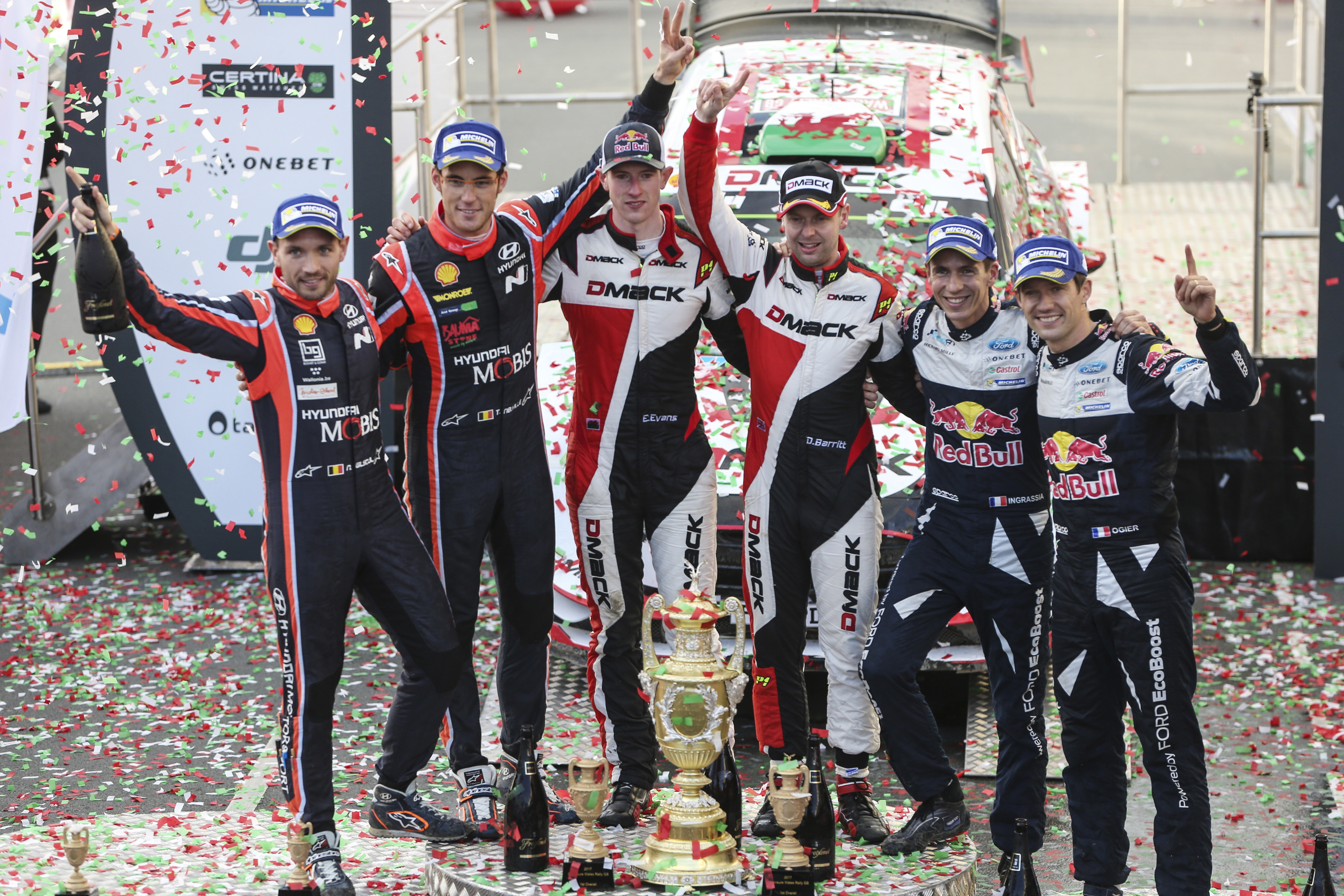 SEASON 2017SportRallies1SportWorld Rally ChampionshipRalliesWRCSEASON 2017Rally GBWRC01Sunday, October 29, 2017 – 9:04pmSunday, October 29, 2017 – 9:04pm