Sport news
After a faultless drive over Saturday morning's Rallye Deutschland stages, Ott Tänak has pulled ahead of the field and holds a 23 second advantage over Andreas Mikkelsen, the Norwegian dropping time with a couple of small mistakes. The battle between championship contenders Thierry Neuville and Sébastien Ogier came to an abrupt halt after the first stage when Neuville suffered damage to the rear wheel and suspension, gifting third position to the Frenchman.
Today's route is the longest of the rally and takes in nine stages, the majority over the daunting military ranges of Baumholder. Tänak was fastest out of the blocks this morning and gradually extended his lead, aided when Mikkelsen was a bit cautious in the 42 kilometre Panzerplatte stage and then spun and stalled in the following one. In contrast, the Estonian has driven faultlessly, his only problem being a delaminated tyre. Mikkelsen won the last of the morning's four stages to claw back a few precious seconds and he remains determined to fight to the finish in his first outing in the C3 WRC on tarmac.
The battle between Neuville and Ogier looked set to continue this morning, the rivals starting the day just 2.4 seconds adrift. However in the shortest stage of the rally, the left rear wheel hub became detached from the suspension arm and while Neuville was able to limp to the end of the stage, he then had to retire with the wheel sticking out at a 45-degree angle. As such, Ogier instantly moved into third, his rival's misfortune potentially giving him the opportunity to move back ahead in the Championship standings. He is still fighting and has closed the gap to Mikkelsen to 6.9 seconds at the mid-leg service. Elfyn Evans is now fifth; the Welshman got distracted when the co-driver's door kept opening in the Panzerplatte stage and he then spun in the following test and is having to fight hard to stay ahead of Juho Hänninen, the Finn a mere eight-tenths of second behind in the lead Yaris WRC. Craig Breen holds sixth, the Irish driver also suffering with a delaminated tyre. He also had two overshoots and will doubtless be relieved to be back at service after a tricky morning. Jari-Matti Latvala has had a disappointing and frustrating morning with a couple of excursions off the road and then no handbrake in the final stage. He is seventh with over two minutes in hand to Hayden Paddon, the Kiwi the highest of the Hyundai crews.
Jan Kopecky continues to head the FIA WRC 2 Championship in his Škoda Fabia R5 but is in a close battle with Eric Camilli, the Frenchman overhauling Pontus Tidemand who lost nearly a minute with a puncture. In the FIA Junior WRC Championship, Nicolas Ciamin lost the lead with a bent rear axle and Julius Tannert now heads the category in front of Nil Solans.

Rallye DeutschlandWRCWRC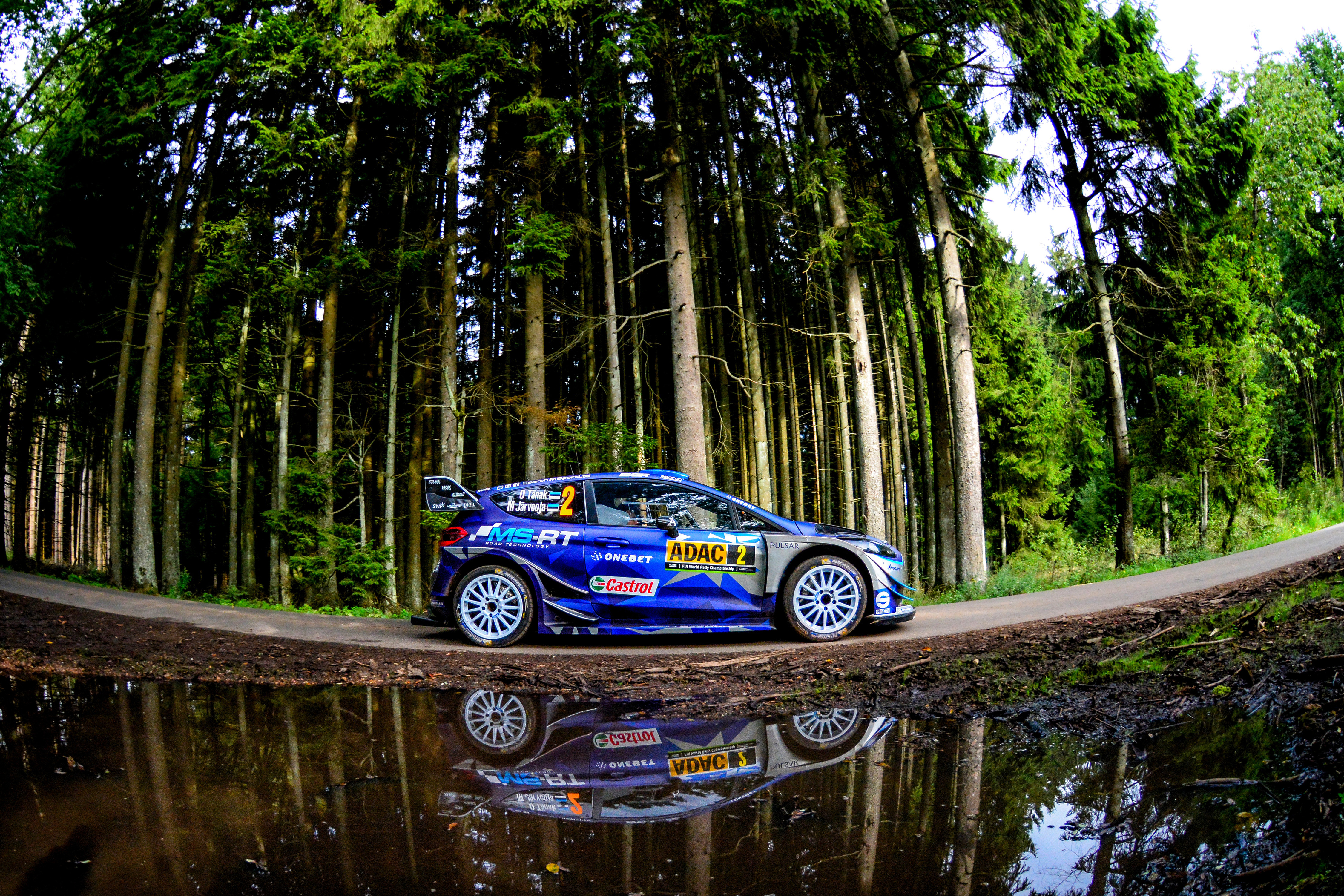 SEASON 2017SportRallies1SportWorld Rally ChampionshipRalliesWRCSEASON 2017Rallye DeutschlandWRC01Saturday, August 19, 2017 – 3:05pmSaturday, August 19, 2017 – 3:05pm