Sport news
Ott Tänak is just four stages away from a maiden FIA World Rally Championship victory, the Estonian taking the lead of Rally Italia Sardegna after Hayden Paddon clouted a bank and was forced into a devastating retirement. Jari-Matti Latvala and Thierry Neuville have therefore also moved up the leaderboard into second and third respectively after another tough afternoon of competition.
A rejuvenated Paddon looked to be totally in control of the leaderboard this morning and started the afternoon loop with a 9.4 second lead over Tänak. But in the first of the repeated stages the Kiwi hit a bank and amid dramatic images showing the rear wheel hanging off and flames in the wheel arch he completed the stage but was simply unable to go further. "Amateur mistake," said a distraught Paddon. "An absolutely stupid mistake. I turned in too early and clipped a bank. It's a broken drive shaft I think. I've let everyone down, it's ridiculous."
Tänak, who had been hot on his heels, set fastest time in the stage and then also assumed a shock lead. He has had a clean run all afternoon: "This afternoon was surprisingly good," he said. "It has been good to drive up to now with a safe margin, now we can push more. Tomorrow I don't see any reason why Latvala should be any quicker."
The Finn is 24.3 seconds behind in the lead Toyota and has been managing tyres and hot brakes most of the afternoon. He has nearly 40 seconds in hand to third-place Neuville, the Belgian ruing the brake problem that dropped him over a minute this morning. Behind the leading trio, Esapekka Lappi continues to have an impressive outing in the Yaris WRC, another fastest stage time underlying his potential. He managed to overhaul Juho Hänninen this afternoon after his team-mate lost the power steering in the final stage of the day. Despite some problems, the Japanese manufacturer has three cars in the top five on one of the roughest events of the season. Sébastien Ogier overnights in sixth and continues to have a tough time, yesterday's road position and overnight result making it almost impossible for the Championship leader to improve. Having dropped time changing a puncture this morning, Mads Østberg started well this afternoon but then lost yet more seconds with damaged front suspension in the final stage. Andreas Mikkelsen continues to test different settings, with mixed outcomes, but the Norwegian then completed the day in rear wheel drive having broken the front differential. He is eighth ahead of the leading FIA WRC 2 Championship contender, Jan Kopecky. The Czech driver won each of the afternoon stages and takes a 90 second advantage over Ole Christian Veiby into Sunday. In the FIA Junior WRC Championship, Nil Solans takes a 26.7 second advantage over Nicolas Ciamin.
The final day on Sunday takes in just four stages and 42.04 competitive kilometres.
Rally Italia Sardegna – Provisional results after Section 5
| | | |
| --- | --- | --- |
| 1. Ott Tänak / Martin Järveoja | Ford Fiesta WRC | 2hr 56min 37.3sec |
| 2. Jari-Matti Latvala / Miikka Anttila | Toyota Yaris WRC | 2hr 57min 01.6sec |
| 3. Thierry Neuville / Nicolas Gilsoul | Hyundai i20 Coupe WRC | 2hr 57min 39.5sec |
| 4. Esapekka Lappi / Janne Ferm | Toyota Yaris WRC | 2hr 58min 48.1sec |
| 5. Juho Hänninen/Kaj Lindström | Toyota Yaris WRC | 2hr 59min 19.4sec |
| 6. Sébastien Ogier / Julien Ingrassia | Ford Fiesta RS WRC | 3hr 00min 03.4sec |
| 7. Mads Østberg / Ola Floene | Ford Fiesta WRC | 3hr 00min 33.3sec |
| 8. Andreas Mikkelsen / Anders Jæger | Citroën C3 WRC | 3hr 04min 24.9sec |
| 9. Jan Kopecky / Pavel Dresler | Škoda Fabia R5 | 3hr 06min 30.2sec |
| 10. Eric Camilli / Benjamin Veillas | Ford Fiesta R5 | 3hr 06min 31.1sec |
Rally Italia SardenaWRCWRC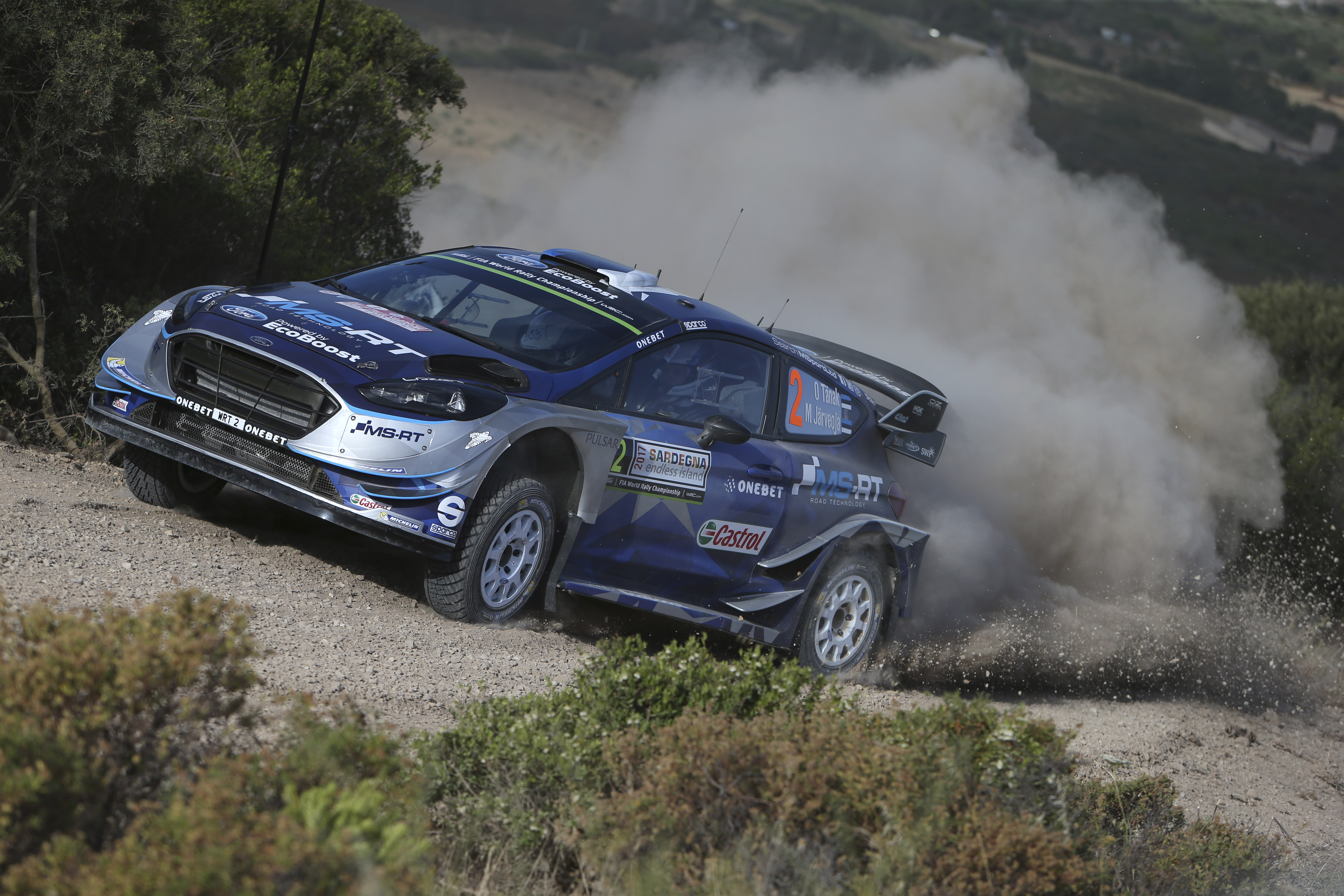 SEASON 2017SportRallies1SportWorld Rally ChampionshipRalliesWRCSEASON 2017Rally Italia SardenaWRC01Saturday, June 10, 2017 – 7:50pmSaturday, June 10, 2017 – 7:50pm